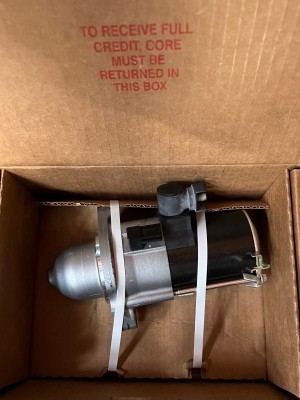 My cars starter needed to be replaced. An aftermarket car starter from Auto Zone, Advanced Auto Parts, NAPA and comparable range from $250 to $430 - not new but rebuilt.
In my personal opinion and experience, I prefer to purchase car parts directly from my car brands dealership if I can but not always because it could be more expensive.
Heres my tips for purchasing dealership parts for less:

Research online your nearby cars brand dealerships and check our their parts specials tab and see if they're running any promotional coupons. For example my car - a Honda, I usually find 10-15% off coupons.

Call your nearby car dealerships and ask the parts department how much the part you need to purchase would cost. Repeat and call more nearby locations to compare pricing.

When you're on the phone with potential locations to purchase from don't be shy and ask if they accept competitor coupons? Or if there are any special discounts they can apply for you. Some locations in my area will apply additional discounts if you are a regular, or sometimes if you show your club store membership or specific credit card (depends on location).
All in all, I learned starters from Honda dealership are sold 2 different ways: 1 being brand new with 1 year warranty or rebuilt starters with 3 year warranty. With that being said going with a rebuilt starter makes more sense!
I called 3 locations:

Brand new starters from 3 places: $630, $703, $750
Rebuild starters from 3 places: $470, $537, $570 + for rebuild there is a core fee of $75 and you will get $75 back once you bring back your broken starter.
I went with the $470 location and I was able to save an additional 15% off by showing a local competitor dealership offering discount on parts. I saved $70 with less than 25 minutes of research and phone calls.
Other ways you can purchase a starter for cheaper if you know a mechanic:
Junk yard
Remove starter, get the starter tested to see what is the issue and replace that specific part