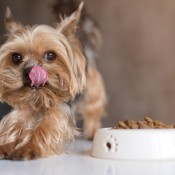 I have 2 nice, healthy, middle-aged best friends who usually are fed dry dog food, with a little something extra. Whenever I cook, I save bones from meat, extra broth, etc. and simmer it on the stove for a nice flavorful broth to pour over the dogs' dry dog food.
Sometimes, I make stock for use in our own foods then boil the bones yet again to get more flavor out for the dogs. I strain it, so no little bones get into their dishes. If you refrigerate the bones between uses, you can sometimes get even a third-time broth out of them.
Another thing they love over their food is water you've cooked pasta in. I try not to feed them fatty and oily things, only the good juices from cooking. This saves spending money on canned dog food (except for a treat, LOL) because it makes dry dog food a little extra special. Also I don't buy the most expensive brands, because I feel like I'm giving them good nourishment with the broths.
By Jayne
Comments

meloney
Bronze Feedback Medal for All Time! 104 Feedbacks
June 19, 2011
0

found this helpful
Top Comment
I don't think that any of the Purina dry pet foods have ever been on recall because they never use any additive from China. If I'm wrong, please feel free to correct me.
We never use any pet food except one made by Purina for our cats or dogs. Purina is somewhere in the middle of the pricing schedule. They are not the least expensive, nor are they anywhere close to costing what some of those designer foods costs.
Our dogs will eat leftover vegetables too. Green beans and carrots, sweet potatoes, even squash go into their dry foods. Cats get tuna and salmon liquids even when I mix some water in. Dogs like the fish liquids too, but the cats just beg for it every time I use the can opener.
In addition to the meat broths you are using, consider using broth from vegetables as well for the dogs' dry foods. Better than letting it go down the sink and you can see the difference in energy levels of all your pets.
When we dump out any leftover dry cat food, it goes into the fish pond. The goldfish love it.
Suziq9

January 8, 2012
0

found this helpful
Top Comment
I'm with Fuzzy on this. The only thing I did differently when cooking for my dogs when I had them was that I didn't give them anything containing salts, other seasonings, onions, tomatoes, or any of the other human foods that aren't good for dogs.
And I strongly suspect Jayne does the same, and simply forgot to mention that when she was writing her tip.
BTW, I lost my 13 year old neutered male Boxer thanks to the Chinese contamination. I'd been feeding him kibble with homemade stock over it, and was horrified when he went down; the vet finally identified the killer as the Gravy Train kibble I'd bought the week before he got sick-first time, and it killed him:
Scroll down-you'll see several of the so-called premium and considered outstanding dog kibbles listed as having been recalled.
Read More

Comments