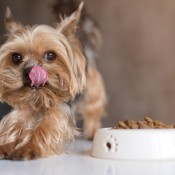 I have 2 nice, healthy, middle-aged best friends who usually are fed dry dog food, with a little something extra. Whenever I cook, I save bones from meat, extra broth, etc. and simmer it on the stove for a nice flavorful broth to pour over the dogs' dry dog food.
Sometimes, I make stock for use in our own foods then boil the bones yet again to get more flavor out for the dogs. I strain it, so no little bones get into their dishes. If you refrigerate the bones between uses, you can sometimes get even a third-time broth out of them.
Another thing they love over their food is water you've cooked pasta in. I try not to feed them fatty and oily things, only the good juices from cooking. This saves spending money on canned dog food (except for a treat, LOL) because it makes dry dog food a little extra special. Also I don't buy the most expensive brands, because I feel like I'm giving them good nourishment with the broths.
By Jayne
Comments
Read More

Comments