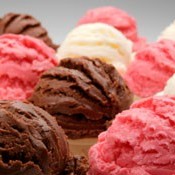 Here are some tips for saving money on ice cream from the ThriftyFun community. Feel free to post your ideas below.
Lactose Free
My daughter is allergic to lactose, meaning I can't just buy any ice cream on sale. I had been buying rice ice cream and soy ice cream, but it's about $4.50 a QUART! My daughter was 3 last summer, and it seemed wrong to spend all that money for something that she really didn't enjoy.
One day. I saw Breyer's vanilla comes in Lactose Free, and it was the same price as regular Breyer's! I was so happy, I sent Breyer's a thank you e-mail, and they sent me 2 $1.00 coupons! Aside from that, my friend says that the Save-a-Lot premium ice cream is delicious, but I'm funny about trying store brand ice cream.
By LAnBfflo
Combine Coupons and Sales
A good way to save money on designer ice creams like Breyer's and Dryers is to look for manufacturers coupons and then combine that with a sale price. A lot of the nice ice creams cost about $5.00 per half gallon but I can usually get it for $2.50 to $3.00 if I combine a coupon with a sale price.
Try Store Brands
I have found that the store brand ice cream is often as good as some of the name brands. They have lots of flavors now and in some cases, I like the store brand's version better than Breyer's or Dryer's.
Buy Cheap Vanilla
Buy cheap vanilla ice cream in 5 gallon containers and then add your own toppings. You can get chocolate syrup or chop up candy bars that are on sale and make your own designer ice cream flavors. Also, if you have any broken waffle cones, save those as a topping. Waffle cones with hot fudge sauce over vanilla ice cream is delicious.
Ice Cream Cones
Eat ice cream in cones instead of bowls and it will stretch further. Buy small ice cream cones and only put one scoop on top. If you don't like ice cream cones then use small, one scoop bowls instead of soup bowl. Make ice cream a treat, not something you fill up on.
Do you have any ideas for saving money on ice cream? Feel free to share them below.
Read More Comments
Is stopping at the ice cream stand getting too expensive? Buy a 1/2 gallon of your favorite ice cream and put out in small dishes: chocolate sprinkles, multi-sprinkles, banana slices, and chocolate sauce (or your favorite sauce). Let everyone pick their toppings. My grandkids look forward to this when visiting us. Our "ice cream social" is fun and very inexpensive. Happy eating!
By Joesgirl
Read More Comments
Sometimes I forget about ice cream in the freezer, and it gets stale -- or develops ice crystals, which make it unappetizing. Does anyone have an idea for ways to use the stale ice cream? I hate throwing it away.

By zballoongirl

Answers
By Jen (Guest Post)
March 9, 2005
0

found this helpful
Try using it in smoothies.
By Elaine (Guest Post)
March 9, 2005
0

found this helpful
put it in a blender with some milk and make a shake. You can add chocolate syrup or strawberry for a different flavor.
If you don't have a blender you can use a fork to mix it up.
By Linda (Guest Post)
March 10, 2005
0

found this helpful
Melf it, and use it as a sauce over fresh berries, or over a berry shortacke in stead of whipped cream.
March 10, 2005
0

found this helpful
Wow.......I have the totally OPPOSITE problem......I can't seem to forget that I have ice cream in the freezer......even wake up in the middle of the night swearing it's calling me from the freezer. Don't know WHY my hips are this huge. *grin*
March 11, 2005
0

found this helpful
I HAVE MELTED DOWN THE ICE CREAM, THEN WHENEVER A RECIPE CALLS FOR MILK, LIKE IN CAKE OR COOKIES I USE THE MELTED ICE CREAM IN PLACE OF THE MILK, ALSO ADDS TO THE TASTE !!!!
March 16, 2005
0

found this helpful
After opening a carton, pail, or pint of ice cream, put it back in the freezer upside down. This will keep it from forming ice crystals. I'd read this somewhere, maybe on here, and it's true!! My ice cream tasted as good the 2nd time as it did right after I purchased it!!
Also, ice cream in our household never gets a chance to go stale!! We don't buy ice cream much in the winter months. Summertime, now that's a different story!
By Ann4 (Guest Post)
April 5, 2005
0

found this helpful
When you open a carton of ice cream, cover the top of the ice cream with a piece of plastic wrap. Just press the wrap so that it touches the ice cream all the way across. This has always worked for us (I know the crystals you are talking about).
Answer

this Question

...