August 24, 2007
0

found this helpful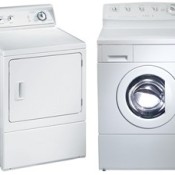 Tips for saving money on appliances from the ThriftyFun community.
Tips For Getting Discounted Appliances
Ask about scratch and dent items, items that have little nicks, scratches, dents (hence the name). Also, ask about something that may have been separated from a group set, or something that was returned, or refused. Someone else's buyer's remorse may be your big bargain. Something that has been repaired, too, ask about warranty, and such. I don't know if it'll work, but try to haggle. Tell them that you are sure another competing store has that item for just a little less, and maybe you should go there instead.
By KLS8800
Look For Cosmetic Damage And Other Advice
Used appliance stores sell appliances with cosmetic damage. If the appliance damage area is in an unseen part, you're in business.
Warning: when Sears sells appliances on their own credit card, they own it until it is paid off. Be careful. If you default on the card, they can repossess your appliances.
By Carrie
Beware Of Store Credit
Stores that sell appliances love to have people buy appliances on their high interest store credit cards. That can result in paying double for the appliances if you don't pay them off aggressively. Always try to save up for large appliance purchases rather than putting them on a credit card. Also, be sure to check the local want ads. You can find good deals on appliances from people who have recently upgraded theirs.
By Fisher
Look For Energy Star
Be sure to buy large appliances that are Energy Star rated. This will save you in the long run on utilities. There are often federal and state tax rebates that you become eligible for so it might not even cost you any more that the cheaper model.
Buy Used Instead Of New
We have gotten all our recent appliances used. Just got a used portable dishwasher for $100 ($400 new) - also rehabbed classic old gas stove (they are better made than the new ones) instead of replacing - and got used frig and microwave, too!
By pam munro
Check Reviews Online
Make sure to check reviews online before making a major appliance purchase. Just search for the brand an model number in your favorite search engine and some reviews should come up. Also, feel free to post a request for product feedback on ThriftyFun.
By Fisher
Simplify Your Life
When our toaster died, we didn't replace it. We use the broiler on our oven to make toast. We have gradually reduced our dependence to four items: a blender, refrigerator, stove and an iron. The other stuff just took up space and didn't improve our standard of living a bit. We do have a TV and a DVD/VHS player. We have bought recent VHS tapes for as little as .50. That's what we spend our entertainment budget on. All I need to be happy is a good video and a bowl of popcorn.
By Coreen Hart
0% Financing
Home Depot and Lowe's frequently offer 0% interest rate for a year when you use their store credit card on large purchases. It's a nice way to make a large purchase and then pay it off over several months. Just be sure to pay it off before the offer expires and keep in mind that new items that you charge on that credit card will be paid off first! So try not charge anything else on the card until your appliance purchase is paid off.
By Fisher
Feel free to post your own advice in the feedback forum below.
Is anyone else having to replace new(er) appliances more quickly than they expected? When we built our new home six years ago, we bought all new name-brand appliances except for the stove. They are not lasting! So far, I have had to replace the microwave, my beloved self-cleaning gas stove (8 years old), the dishwasher and now the water softener. The answer I have received to my question of why is that these appliances are now made with circuit boards and they are much more expensive to repair than replace. Are we that much of a disposable society or am I just choosing the wrong brands? I am beginning to think that those who hang onto their appliances manufactured 15 years ago or longer are going to be real winners in this arena.

Ronsan from Southwest Missouri
Answers
By (Guest Post)
June 26, 2006
0

found this helpful
I have had to replace a few of my appliances after 10 years and was told that was good for the way they are made today. Six years seems a little short for name brand. However, I was also told, yes it is a disposable world. My dishwasher is about 6 years old and one day all the lights were on on the front panel. I couldn't get it to do anything. After reading the manual and almost unloading and doing them by hand, I happened to see in the manual "if they have to come out for a circuit breaker, there would be a service charge". My husband said it wouldn't be a breaker as all the lights were on, but I went down and flipped the switch back and forth anyway and it worked. I think the memory in the board was confused and didn't know what to do. Works great. Had I not seen that, I would have called a repair man (or bought a new one) and who knows how many dollars it would have cost me. I have a refrigerator downstairs that must be 55 years old. It is probably the reason my electric bill is higher, but it works like a charm. They don't make them like that anymore!
By Dean (Guest Post)
June 26, 2006
0

found this helpful
Yes,appliances do not last as long.They call it built in obsolescence.Keeps people working.I have had to toss some appliances because the circuit board was cooked.Either the part was no longer made or it could'nt be repaired.Here is a list of the life of most appliances.The first figure is low,second is high and the last is average life.
Life Expectancy (Years)
Low High Average
Microwaves
5
10
8
Ranges, electric
13
20
16
Ranges, gas
15
23
19
Ranges, hoods
9
19
14
Refrigerators, compact
4
12
8
Refrigerators, standard
10
18
14
Water heaters, electric
6
21
14
Water heaters, gas
5
13
9
Washers
8
16
12
Dryers, electric
11
18
14
Dryers, gas
11
16
13
Dishwashers
9
16
12
Food waste disposers
10
15
13
Freezers
12
20
16
Compactors
7
12
11
By Ronsan (Guest Post)
June 27, 2006
0

found this helpful
Thank you very much for this information! I had no idea but will save that information for the future. It would indeed seem that part of the problem, according to the figures supplied, is the name brand I chose ~ the repairman who initially serviced this line of appliances said that almost all major appliances are now manufactured by only two companies in the US, and that the particular company I selected is reknown for offering an unbeatable "bundling" price (meaning that the more you buy of this one line at the same time, the better the overall price) but that unfortunately when it comes to repairs, they are the most expensive in the industry. I have learned my lesson!
By (Guest Post)
June 27, 2006
0

found this helpful
I was told the reason is the obvious. You have to keep replacing them.
Christine IN.
June 28, 2006
0

found this helpful
Your only problem is actually using these appliances! If I get more than 4 years out of a dishwasher it is breaking a record.
My uncle, an engineer, said to get the appliance on the low end of the spectrum as it has less parts to break. So far he has had good luck.
By (Guest Post)
July 3, 2006
0

found this helpful
also the replacments parts are not good. we have a ge stove about 6-8 years old the handle went . We ordered a replacment which cost a lot. the replacement did not last more then a month and half. this happened 3 times we decided to have a no handel door.
By gleeglee56@ sbcglobal.net (no spaces) (Guest Post)
February 19, 2008
0

found this helpful
I totally agree with you. I have been in my house for five years and have replaced: the dishwasher, the dryer, the washing machine, and the microwave. It is really sad that it is less expensive to replace than to repair.
January 4, 2010
0

found this helpful
I bought my first refridgerator in the '70s. It lasted 18 years. The second lasted 7 years. The third one 5 years. Oh, for a large old-fashioned larder! Marg from England
September 2, 2013
0

found this helpful
Built in obsolescence is the answer. And cost or brand have no bearing. I bought a Jenn Air almost 5 years ago at a cost of $2,000. My 3rd Jenn Air and my last. The mother board has been replaced FIVE times already. And when discussing this with customer service, it's "oh well, sorry you are having such trouble" etc. For the same cost I would have been better off purchasing 4 cheap and having stoves for 20 years.
Answer

this Question

...