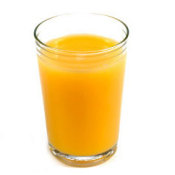 Tips for saving money on juice as suggested from the ThriftyFun community.
Buy Concentrate
My daughters love juice and drink a lot of it. While it is nice and convenient to buy the gallon jugs of the already prepared juice, the concentrate is much cheaper and tastes just as good.
By Robin
Add Extra Water
When the directions call for 3 cans of water, I put in 4 cans. My family hardly notices the difference and it stretches it a lot.
By michele
Add Water to Each Glass
I also add the extra water. But then when I go to get a glass of juice, I add even more water. Can't tell a difference. I am doing this with milk also.
By Sandy
Make Ice Cubes With Leftovers
When the juice bottle is sitting too long, I freeze them into ice cubes for the kid's water or I add enough juice to the water to flavor, especially Concord grape juice. I also stock up on sales, especially of apple juice, and usually buy generic, unless it is substantially healthier (all natural, more vitamins etc.)
By Kelly
Add Seltzer to Juice
Also, a great idea is to mix seltzer in with your juice. If you get seltzer on sale, you can make many great combos with it. For instance; white grape juice and lemon-lime seltzer mix to make a "citrusy" sparkling beverage. Also, if you have just a little juice left in your container you can add it to Jello or on fruit salad to give it a kick. These tips work great with either ready-to-drink or concentrate juice
By Starr
Juice Blends
I buy 100% Cranberry juice (sweet - mostly grape juice) (good for kidneys) and add 100% real cranberry juice (tart). It is costly but goes a long way to boost the effects. I put about 1/3 of the real juice bottle into one bottle of Cranberry (grape) -- so three bottles of good-for-you juice come from that one bottle of actual cranberry juice.
By Linda
Serve Juice With Ice
Use real juice concentrate, frozen and add extra water. Add ice cubes to the juice, takes up more room and the kids think they are getting more (use cool ice cube containers if you need to convince them).
By Michawn
Eat Fruit Instead
Since juice is basically sugar water, I don't buy a lot of it for my family, but I do get lots of fruit for us, and I haven't had a lot of complaints. We do drink a lot of water that has been filtered.
Read More Comments
After buying a 6 pack of bottled fruit juices, for my husband's lunches, I keep the bottles. I refill them with juices I buy in big bottles at a much cheaper price, than the 6 packs. These bottles of juice, (allow room at the top for expanding), I can put these in the freezer. So when I'm making his lunch, I can bring them from the freezer to his lunchbox. So when he goes for it, it might still be icy or thawed completely, but still ice cold. He looks forward to these as he never knows what juices I'll be refilling the bottles with.

By Terri from NV
Read More Comments
My doctor wants me to stay on a low sugar daily diet because of high cholesterol. I searched the health food section of my local grocery store and was going to purchase a bottle of pure blueberry juice, no sugar added. What really stopped me was the price for such a small bottle. I happen to own a high speed blender. Does anyone have a pure blueberry juice recipe using filtered water? Thank you for any suggestions.
MCW from Lewiston, NY
Answers
February 17, 2009
0

found this helpful
blueberry-grape juice
handful of grapes and 1 cup of blueberries, fresh or frozen.process in a juicer.
February 17, 2009
0

found this helpful
Try what I do to keep my kids in healthy juice. Spend a little bit more for the 100% juice and then dilute it at home with water to taste. I usually use a 1:1 ratio, 1 part juice to 1 part water. I get a healthier alternative to sugar filled juice drinks and my juice dollar goes a bit farther. Plus my kids are getting a much needed serving of water along wth the juice flavor.
February 17, 2009
0

found this helpful
I went to the health food store to buy cranberry juice. I didn't want cran cocktail. The price really was high, until I tasted the juice straight from the bottle. That stuff needed to be diluted and sugared.
I wanted it medicinally, so I took it by the tablespoon, but the pure blueberry juice may be the same. You may get much more blueberry juice to drink than the bottle-size. Of course, fresh blueberry juice must be great, I've not had the chance to try it. I love blueberry season.
February 17, 2009
0

found this helpful
Hi have you thought of using splenda I do admit it is pricey sometimes but it is worth it. I have type 2 diabettes no insuln just 1 pill twice a day. Anyway I use the splenda in alot of stuff and also I get my daughter the healthy juice that is recommended by the JDF also no regular sodas diet is ok also you can get like diet peach icy tea wal-mart has a cheap brand that you can purchased to make like 4 to 5 quarts or what ever. Water is good too. Watch out on the fruit to. Too much of a good thing can have too much sugar. Even though it is natural sugar. If still not sure look on websites for low sugar diets or meals and just be sensable about what you eat too.
February 18, 2009
0

found this helpful
I just put frozen blueberries into my blender with a banana and some cold green tea to make a smoothie. Add whatever else you have. I pick my own blueberries in the summer and freeze them--much cheaper than buying them throughout the year. Unfortunately, blueberries are expensive no matter how you get them. Some health food stores carry an unsweetened concentrate that you can add as much water as you like. Don't feel you have to juice the fresh fruit--add them to cereals, desserts, sweet breads, cakes, muffins, etc. I even buy dried blueberries and add them to my homemade trail and granola mixes.
By (Guest Post)
February 18, 2009
0

found this helpful
Most stores blend the blueberries with apple, pear, and grape juices. Look for RW Knudsen brand juices if you need to find pure juice in a grocery store (either juice aisle or health food/organic aisle). Also, Trader Joe's carries pure blueberry and other high anti-oxidant juices in quart or larger sizes (http://traderjoes.com). If you don't have your own blueberries to work with, Sam's Club has good prices on frozen Dole brand blueberries. Maybe a Walmart Supercenter would also have them.
Answer

this Question

...