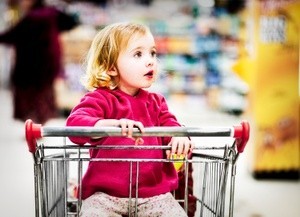 The stores are filled with a plethora of kid-friendly products. The only problem is that they're not necessarily budget friendly products. There are more frugal options to kid-friendly products for the creative mind.
Kid-Friendly Food
Jello is a great place to stretch the creative aspects of kid-friendly food. Negotiate with children to exchange an expensively packaged kid-friendly food for egg-shaped Jello treats instead. Jello makes interesting molds that can be used over and over, but a few plastic cookie cutters and several packages of Jello can also substitute for expensive chicken nuggets in dinosaur shapes.
If shaped foods interest your child, try purchasing a block of cheese and cut it into thick slices. Then, use a cookie-cutter to create fun shapes. Add the extra cheese morsels to pasta salad, pizza, or morning eggs to reduce waste.
Many kid foods are expensive and fun simply because of their color. With a bit of food dye, plain yogurt can have colorful swirls. Fruit juices can be bright blue or neon green. Imagine the possibilities for mashed potatoes!
Decorate It
There are many products that feature highly decorated kid-friendly packaging, but there's a price for that packaging. Devise a plan to make plain products work for childhood imaginations.
We purchase many plainly packaged items, especially at bulk stores, and then add fun stickers to make them kid-friendly. Tissue boxes and toddler wipe boxes can be customized with stickers already on hand. When camping we've cut out shapes from craft foam to make interesting critters from flashlights that we already have rather than purchase the expensive child flashlights. Not only are we saving on our purchases, but we're creating a family craft time as well.
Personalizing a product almost guarantees that children will love it. With a Sharpie marker in a fun color, anything can be personalized. Type the name in an interesting font on a word processor and then print and trace it if you're not a budding artist. Pencil pouches that cost $2 can be transformed to creative designs in minutes.
With some carbon transfer paper and permanent markers t-shirts, binders, and folders become designer creations for very little. Trace favorite characters onto plain items with the carbon paper before completing the design with the markers. Look for interesting patterns or artwork on wrapping paper or magazine ads.
Teach Them
It's tough to say no the child in the grocery store who begs for string cheese simply because Scooby Doo's face is on the package, but when Scooby's cheese costs nearly $2 more because of his presence, the line must be drawn. Most packaging has some sort of "mascot" on the package; make the cheapest package have the coolest mascot. It's a counterattack on the major companies that pay top dollar to print famous characters on their products. We've made some interesting jokes about the Frigo string cheese man, and I think there was even a song to go with him once. Now he's the one my son runs to while shopping which is fine with me.
Comments
Read More

Comments