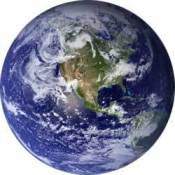 One great thing about frugal living is that being frugal tends to lower your impact on the environment. In honor of Earth Day, we have collected some money saving tips and articles that are also good for the environment.
Ride A Bike
Get a bicycle. Goodwill stores often have nice used ones for $10 or so. Make sure it's the right size for you, it's comfortable and you know how everything on it works. Then put reflectors on it, a basket on the front and/or back, get a lightweight lock, and go for it. Optional: light, and rear-view mirror on handlebars.
And please always wear bright-colored clothes when riding, or at least tie a bright scarf on the back. Thrifty, green people know how to avoid accidents.
By Janice C.
Cloth Bags For Groceries
A few stores in my area, like Fred Meyer, have been selling sturdy reusable cloth totes to use instead of paper or plastic bags. They have nice handles, sit flat and are good for the environment. So I always remember then when shopping, I store them in my car. It is so nice not to have all those plastic bags to deal with and recycle.
Jess in Portland, OR
Save Energy with Swimming Pool Covers
You can significantly reduce swimming pool heating costs by using a pool cover. Swimming pools lose energy in a variety of ways, but evaporation is by far the largest source of energy loss. Evaporating water requires tremendous amounts of energy. It only takes 1 Btu (British thermal unit) to raise 1 pound of water 1 degree, but each pound of 80 degree F water that evaporates takes a whopping 1,048 Btu of heat out of the pool. (Source: US Department of Energy)
Aluminum Cans For Container Drainage
If you have big garden containers, like the whiskey barrel type, you can take your old pop cans and put them in the bottom for drainage. A gardener told me about this one and it works well and the cans get put to another use.
By Sherry
Reusing Paper Towels
I wash my hands many, many times a day. I use Viva paper towels. After I dry my hands, I lay the paper towel out flat on my counter and re-use it several times for drying or it's there for a quick wipe up, if you need. Saves money on my paper towel purchases. Viva is a very durable paper towel. I know it's more expensive but, in the long run, a good paper towel will withstand a lot more that a generic one.
By Penny Stoehr
Use Washable Towels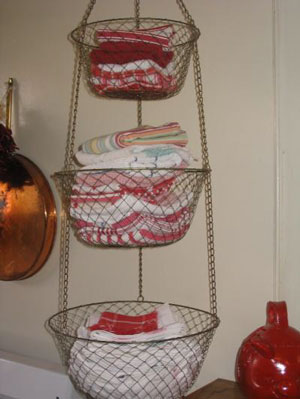 Purchase some hand towels at the dollar store, and dry your hands with those. That way you only use water, not trees.
By Heather
I haven't used paper napkins for at least 5 years and I use paper towels rarely. I buy bandanas and/or cloth napkins (usually from the Dollar Tree Store) and wash them when I wash my regular laundry. Paper towels are so wasteful if you use them for clean-up! Instead use old, worn out dish towels, socks, tee shirts, bed linens and baby blankets. I use these for all kinds of cleaning: kitchen sink, bathtub/shower, dusting or polishing furniture and/or knick-knacks. I sometimes soak the dirtiest rags overnight in baking soda and water, wring them out in the morning, then wash as usual.
By Hope
One of the things that I have done for years is to store dish cloths, dish towels and cloth napkins in a 3 tiered fruit basket. It works so well to keep these items very handy, add a decorating dimension by showing off the colors, and to save precious drawer space if you are limited! Enjoy! And you can change the color scheme very easily!
By Deborah, Sherman Oaks, CA
Powdered Milk To Avoid Plastic Waste
I know most people drink milk. We started drinking powdered milk that we mix in glass jars and wash out/re-use the jars. We go through about 2-3 gallons a week and that sure does add up to a lot of those plastic jugs in the garbage (we live in the far north, there are no recycling centers for anything except aluminium and newspaper). When we burn wood for heat for our home, we use the cardboard boxes that the powdered milk comes in to help get the fire going. Waste not, want not. :)
By Kenzie
Simple Living To Preserve The Earth
We look a bit weird to most people because we've chosen to live without electricity. Producing power throws all kinds of pollutants into the atmosphere. If we do get power, it will be solar. It's considered to be the least polluting source.
We raise a few head of cattle, usually six steers and a milk cow, and sell the extra (organic) beef. In the meantime, there's always milk and milk products and a small income. The cattle fertilize their own pasture and our large garden. The dog works as a "doorbell", telling us when we have visitors, whether people or coyotes. The cats keep the mice down. We never buy paper products that will be single-use, feminine hygiene products are about the only thing.
We stay home as much as possible and only go to town when we have several errands to run. The chemical-free garden and fruit trees provide year-round goodies, not to mention beauty when they're in bloom. I like to dry fruit for winter rather than canning so much (except for pears - yum!) I make apple, rhubarb-strawberry, peach and berry pies to sell at the farmer's market. Handmade soaps, too, because they're all natural and kind to skin as well as the drains.
Our washing machine is up the hill, and the wash and rinse water drain out onto a very large pine tree and hundreds of daffodils. All that dirt and detergent is actually good for them. Who knew?
Our lifestyle doesn't make much money, but it doesn't need much to maintain it. If I could stay healthy, we could live on under $400 per month. But the part of earth I like preserving best is me, so the bills go on. This earth is taking a beating, and we love our lifestyle to count as a "safe spot" for it. Love to all!
By Coreen Hart
PreCycling: Saving Money While Reducing Waste

Every week, the average American generates around 23 lbs of waste. A large portion of that comes from the packaging of products we buy. Research suggests that $1 out of every $11 that Americans spend on food goes toward packaging. Here are some staggering facts about packaging:
View This Article: http://www.thriftyfun.com/tf281886.tip.html
Eco-Friendly Irrigation - How to Water Wisely

Few of us are aware of how much water we waste. Most of us merely turn on the sprinkler and walk away. In many places, water is not only scarce, it's expensive. How you deliver water to your lawn and garden can have a major effect on your water bill and ultimately, on the environment.
View This Article: http://www.thriftyfun.com/tf956910.tip.html
Save Energy by Winterizing Windows

Windows can account for as much as 35 to 40 percent of a home's heat loss. With heating costs on the rise, that can translate into significant dollars. New windows are not in everyone's budget, so if you are looking to increase the energy efficiency of existing windows, here are some simple tips for sizable energy savings.
View This Article: http://www.thriftyfun.com/tf92780244.tip.html
Save Energy and Money When Doing Laundry
More ways to save money on energy costs.
View This Article: http://www.thriftyfun.com/tf321231.tip.html
Compact Fluorescent Bulbs - Fight Global Warming One (CFL) Bulb at a Time

According to the EPA, if every household in the U.S. replaced one light bulb with one of their ENERGY STAR rated compact fluorescent bulbs, it would be the pollution equivalent of pulling one million cars off the road. That sounds easy enough right, so why isn't everyone doing it?
View This Article: http://www.thriftyfun.com/tf87568988.tip.html
Re-Using Everyday Household Items
Finding a second use for household items is a true mark of a frugal person. Reusing items saves us money, reduces waste and is a way to do something positive for the environment.
View This Article: http://www.thriftyfun.com/tf50825968.tip.html
Tips to Lower Your Heating Bill

Fall is a great time for a home-energy audit, and there are a surprising number of ways to save energy in your home without investing a major amount of money-or even time. Here are some tips that can save you from several to hundreds of dollars per year.
View This Article: http://www.thriftyfun.com/tf75380257.tip.html
A Guide to Non-Toxic Cleaning

If you're like me, one trip down the cleaning products aisle at your local grocery store can leave your eyes burning, your head pounding and leave you gasping for fresh air. Making your own green cleaning supplies is not only better for your indoor and outdoor environment and your health; it can save you a bundle of money. On average, $20 dollars of commercial cleaners will cost you less than $5 to make.
View This Article: http://www.thriftyfun.com/tf264529.tip.html
Battery Basics - Reduce, Recharge and Recycle!
Household batteries include both single-use and rechargeable dry cell batteries used to power toys, cameras, radios, flashlights, hearing aids, and many other portable products. Nearly all households produce waste batteries, in fact Americans use and discard about 3 billion batteries every year. That adds up to 125,000 tons of battery garbage.
View This Article: http://www.thriftyfun.com/tf60480125.tip.html
The Ecology of Your Car
When you consider that there are well over 600 million cars on the road worldwide, you begin to understand how a few negative driving and maintenance habits can add up to large environmental damage. Lessen your car's impact on the environment by following these driving and maintenance tips:
View This Article: http://www.thriftyfun.com/tf42563058.tip.html
Tips for Traveling Green

Even with the best of intentions, it's easy to generate waste and pollution while traveling. By following a few simple guidelines, you can reduce your impact on the environment and save money at the same time. Here are a few tips for traveling green.
View This Article: http://www.thriftyfun.com/tf535273.tip.html
Feel free to post your own ideas below.
Read More

Comments
As I look for ways to save money, I often discover that while trying to save money and live a frugal life, I also end up doing things in an environmentally friendly way. Since today is Earth Day we are starting a new Brainstorm that deals with just that. What tips do you have that are both good for the environment and your pocket book? Here's a few to get the ball rolling.
Car Purchase
Often, the more expensive the car you buy, the more it will cost to fuel. Buying a less expensive car that gets good gas mileage saves you money initially as well as down the road and it conserves fuel which is good for the environment.
Car Pooling
Car Pooling saves you money on gas and wear and tear on your car. It decreases traffic and emmissions.
Composting
Fruit, vegetable and yard waste is treasure that many people trash. It decomposes into valuable soil which can be used to grow tasty vegetables which will save you money at the grocery store.
What tips do you have that are both frugal and environmentally friendly?
Answers

April 23, 2001
0

found this helpful
I avoid buying paper towels, paper napkins, paper or foam plates, plastic cups and flatware, and other disposables. When I am served with plastic flatware and the like, I save it and wash it, and keep a small supply in my auto. On those occasions when I *have to* buy food away from home, I can use my own recycled dishes with food from a grocery store.
Rose B, thrift fanatic
* Use public transportation whenever possible. One person commuting to work by mass transit instead of driving can save 200 gallons of gasoline in a year.
* Share your ride. Join a carpool or a vanpool. About one-third of all private automobile mileage is for commuting to work. If occupancy increased by just one person per car, more than 40 million gallons of gasoline would be saved each day.
* Don't speed. For every mile-per-hour over 55 mph, the average car or truck loses almost two percent in gas mileage.
* When driving on the highway, use your cruise control to maintain a steady speed.
* Keep your car or truck well tuned. A well-tuned car uses up to 9 percent less fuel than a poorly tuned car and releases less pollution.
* Keep the tires of your car or truck properly inflated. Under-inflation shortens the life of a tire and decreases gas mileage. For every pound per square inch (psi) below the proper level, there is an average increase in fuel consumption of 0.4 percent.
* Remove unnecessary heavy items from your car. Every extra 100 pounds costs you about half-a-mile-per-gallon.
* Reduce drag when possible when you drive. Drag increases fuel consumption. If you drive with the windows open more drag is created. Roof-mounted racks can increase drag by more than 40 percent if you stack luggage, bicycles, or skis on the roof and back of the car.
* Ride a bike or walk to work, the local neighborhood store, or nearby friends. Total vehicle emissions is reduced to zero.
* Use energy conserving oils the next time you change your car's oil. Labeled with "EC" lettering on the container, these oils can improve your gas mileage by one to two percent.
* If your car is equipped with overdrive, be sure to use the overdrive gear when your speed dictates. Your owner's manual will give you further information.
* Don't start your car until you're ready to move, and avoid long idles. Idling engines waste gas. Limit car warm-ups in winter.
* Drive smoothly. Accelerating slowly from a full stop can save you as much as two miles per gallon.
* Drive a friend or neighbor to work. If every commuter car carried just one more passenger, we'd save 600,000 gallons of gasoline and keep 12 million pounds of greenhouse gases out of the atmosphere every day.
By ronsan (Guest Post)
April 22, 2005
0

found this helpful
1. Avoid unnecessary trips anywhere. I now go into town to shop (grocery, discount store, bank, etc.) only once a week. Everything possible is built around that one trip.
2. Recycling becomes addictive! The more you recycle, the more you want to recycle. Urge your local recycling center to investigate ways to recycle even more, i.e., food grade cardboard (cereal boxs, cake mix boxs, frozen pizza boxs, etc.). Anything you can recycle means you don't have to pay to have it hauled off!
3. Composting is a wonderful way to eliminate almost all your kitchen waste. What can you compost? It's easier to give you a list of what you can't! Don't add to a compost pile any of the following: meat scraps; meat fats; oils; meat bones; cigarette butts Even tea bags, egg shells, coffee grounds and hair clippings make wonderful additions to your compost pile. Make your own "miracle soil" amendment.
4. Create a beautiful and productive garden for your family. If you can't use all the produce, take the extra harvest to any of the following: local food pantrys; church; senior citizen centers. We plant most of our garden in watermelon and cantaloupes just for the fun of watching them grow and then taking them to church to share with others. We watched with delight as 37 melons (some extremely large) disappeared in less than 4 minutes, and we talked for days about the sea of happy faces we saw.
By terdralynn (Guest Post)
April 22, 2005
0

found this helpful
You're right, ronsan, recycling is addictive! I started with just pop cans and now recycle everything our recycling rollaways (at a park in my town) will take. I have gone from using 4+ cans a week for trash to using less than one. This would really help someone who has to pay by the can or bag for trash pickup. Even if you can only recycle cans and newspapers, it cuts down on your trash (and may save some trees). I found out where to recycle in my town by going to www.earth911.org/. You input your zip to start, then it gives you all kinds of info about recycling in your town. Although I'm not what some would call a "tree hugger", I love being able to do something for myself while helping the environment.

April 24, 2005
0

found this helpful
THe reuse of something you might recycle or throw away saves energy and raw materials plus the cost and transportation of such items, and it is fun using your brain making alternatives or copies of an item.
Even the most unhandy person can reuse a soda bottle for hundreds of things like Canisters for flour to weights to exercise with,to Cereal and Salad bowls for a campout or picnic.
You name any item and their are mucho reuses for it.
On throwing out trash; even if you throw out everything, you could take the time to smash it and tear it up. You could save money on trash bags and even without wanting to save a little energy, strengthen you hands with exercise.
My Earth Day I power down or used very little energy . Worked on reuse inventions and listen to the radio my only vice for that day.
washed laundry the old fashion way, washed myself in a small water container and used all dirty water to flush the toilet.
It rained here so I didn'y have much of a chance to get out in Nature.But I observed here through my windows and she is greening nicely finally.
Well Recycle And Green On Folks
Mr. Thrifty

April 30, 2005
0

found this helpful
1. I save the cartons that sour cream, margarine, cottage cheese, etc come in and use them to store left-overs in the fridge. Can use for just about anything, such as nails, twistie-ties, rubberbanks, just jot a label on it.
2. I buy kitty litter by the large buckets (28 lb size) and re-us them by poking a few holes in the bottom with an ice pick, some rocks and then soil and plant tomatoes, greens, flowers etc in them. You can paint over them with primer and then color or colors of choice, maybe paint designs on them and have gotten great complements. They are too sturdy to throw away and have handles too. I have even used them to catch rain water. Many uses.

June 23, 2005
0

found this helpful
I have gotten really into eco-friendly way of life.
I make napkins out of old shirts now. Just cut to the size I want and zig-zag stitch and throw in a bowl, place on table and grab when need one....and since its only my and my family that eat here.. we wait after a few messes before washing.. Afterall, its mainly for keeping the mouth clean not wiping the plate clean..LO
Also, For Eco reasons. I have now gone all Natural Cloth pads for that time of the month.. Learned that from some other Mamas Out there. Also, going out of my way to get my kid sister to use cloth diapers for her daughter, not having much luck yet... But my daughters say when they grow up they sure will. I am a proud Mama
Answer

this Question