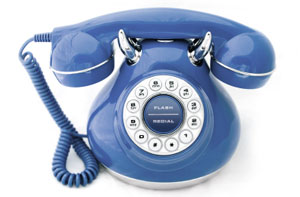 Tips for saving money on calling long distance. Post your ideas!
Use Your Cell Phone
I dropped my land line and only use a cell phone. It's great because I can walk around the city and feel safe, plus, anyone can get a hold of me in an emergency.
I get free nights and weekends, eliminating the need to pay for long distance. Plus, I get caller ID free on the phone. I have T-mobile service and save a ton.
By Melissa
Calling Cards or a Cellphone
To save money on your long distance charges you can do a couple of different things. First of all, you could buy long distance phone calling cards from stores, convenience stores, etc. They are usually cheaper per minute than using your house phone. The other option, which happens to be the one we chose, is to get a cell phone. You pay a certain amount for a certain number of minutes per month. It has been lot more economical than long distance from our home phone.
By Robin
USA DataNet
USA DataNet has a website. You are only billed for the time you use. There is a maximum price per call or a small fee for very short calls. So much better than ATT which charged us every month, whether we used it or not.
By Barbara
Editor's Note: There is a website like this that I have used for a number of years called OneSuite.com. You have to dial a long number to call long distance but you can program it into your phone.
Wal-Mart Phone Card
We make a lot of long-distance phone calls from our home. My husband's family lives 4 hours from us and my son's dad lives an hour and a half. We buy the 500 minute phone cards at Wal-mart and they last forever! Plus our phone bill is so much lower!
By Alica
Take Advantage Of Free Weekends
Most cell phone plans have "free" weekend minutes. Make sure to take advantage of those minutes, too!
By Sandy
Call People On The Same Network
If you have a Cingular cell phone, you can call anyone else with a Cingular cell phone and it is free anytime, day or night, weekends or weekdays. If you want to call someone who doesn't have a cell phone, there is no long distance fee, and if you call at night or on weekends, the calls are free. The only reason we still have a phone line into our house is for our Internet service. We are in an area where there is no cable service.
Our son added us to his family plan with Cingular, so our phone is only $9.99 a month. His wife is a traveling nurse, and this enables us to talk to them wherever they happen to be without paying a long distance bill. In December, they were in Iowa, presently they are in Ohio, and when they are "home" they are in Missouri... 5 hours away from us. It sure has saved us lots of money while keeping in touch.
By Harlean
Momentum Phone Service
I don't have a cell phone. I lived quite well without one before and still do. I do have Momentum for my phone company. It gives me unlimited long distance, local and regional calls besides 12 different features including Caller ID, Call Waiting, Call Forwarding, Three-Way Calling and a bunch of other stuff for no additional charge. The total cost is $39.95 a month plus state and local taxes you are already charged on your regular phone bill. It comes in just under $50 which is great since I'm on the phone to my family in NY several times a day!
I have never had a problem with them, their customer service is excellent and I have had them for two years now.
By Fran Marie
Reload Your Phone Card
We have gone the route of the phone card also. But instead of buying a new card every time it is empty, we just add new minutes to it. We use an MCI card and the cost per minute is about 3.5 cents. I haven't seen a company or card that will beat that rate unless they charge you a per call fee. There is no fee for the call with MCI. Since we do not use a long distance company our phone bill is less than $25 per month and I usually put about $10 on a card at a time and that will last about 2 1/2 to 3 months.
By Dani
Pay By Minute Plan
The best long distance is no long distance. I do have family out of state but I got rid of the long distance service reluctantly at first. I was given a phone card. It has been wonderful. I have over 300 minutes left on it. It started with 450 minutes. it just requires an 800# then my pin #. That way, I don't have a long distance bill if I don't use it this month. It's cool!
By Sandy
VOIP - Vonage
Hey if you use a cable modem you can sign up with any voice over internet service. I am with Vonage and they give you all the bells and whistle services plus free long distance to anywhere in the US and Canada. My price plan is $24.99 which with tax come to around $28.00 a month. Beat that! This is unlimited long distance!! The sound quality is excellent and I can't tell the differece. It's great!
By Randy
ECG Long Distance Or Just Use Email
I am happy with ECG at 3.9 cents/minute with no monthly fees. It's the lowest I know of without having to sign up for direct debit. Frankly, if it comes down to rent, food, or my long distance company, guess who's going to wait? I don't do direct debit because it forces me to put the least important thing first.
Another option is to use email and written letters in place of phone calls some of the time.
By Papillon
Shop Around For Phone Cards
If you make a lot of long distance phone calls. Shop around for phone cards. I found one (at Sam's Club) for 2.9 cents per minute. That is a real bargain, the 2.9 that includes tax, FCC line charges, universal fee. Those fees can add up to $10.00+ per month.
By Ladyjudy
Spring PCS
We use SprintPCS for our long distance. Long distance is free and Sprint to Sprint phones provide free calls, as well as after 7pm and weekends. http://www.sprintpcs.com
Compare Your Phone Company Rates First
See if your phone company has a long distance plan. We have 250 minutes a month for just $12. It's through the phone company, so there's no dialing numbers off a phone card before calling.
By Anna
Make Sure Long Distance Is Canceled On Your Home Phone
I didn't realize, until I called the phone company, that you aren't *required* to have a long distance company on your home phone. We use our cell phone for long distance, and so we were paying our long distance carrier for NOTHING! They charged us a fee even when we didn't use it at all. Better late than never.
P.S. The man at the phone company didn't even know if we "had" to have a long distance carrier. He had to put me in touch with a customer care rep.
By Elizabeth
Answers
By Cindy (Guest Post)
July 20, 2007
0

found this helpful
I also save money on long distance and don't have to by calling cards. And I can beat the vonage price I use SKYPE on my computer and I pay $24.99 for long distance calls anywhere for a Year That's right $ 24.99 for the year. My landline service for long distance was out of this world. And the town I live in only has one phone company so just about any call I make is long distance. Now you can't beat that.
By Dean (Guest Post)
July 20, 2007
0

found this helpful
I buy calling cards from a salvage store. They are 67 minutes for $1.50. Work out great. So I buy a bunch of them at a time.

Michawn
Bronze Feedback Medal for All Time! 188 Feedbacks
July 21, 2007
0

found this helpful
I bought a phone card at Costco for 19.99 then add money when I want too. I've added as little as $5 at a time. It takes a few phone calls to get my pin number memorized and it drives my husband crazy WHEN he make a phone call but other than that we save. Our monthly bill is for basic local service at $24.99.

Harlean
Bronze Post Medal for All Time! 148 Posts
July 21, 2007
0

found this helpful
Tip for Senior Citizens on low income....check your local phone company for Life Line service. It is based on your income, but will cut your phone service about in half. My 85 year old mother uses this, and her bill is about $14.00 a month. She also doesn't have a Long Distance carrier. Another phone company (AT&T) feature is measured service. If you don't make a lot of outgoing calls it will save money since you are not charged for incoming calls, and pay a pennies per minute for outgoing local calls, but it greatly reduces your base phone bill.
Personally, we only have a single line with no extras (except CallWave) and no long distance carrier. I discontinued that when they began to charge $2.00 a month whether I use Long Distance Service or not. Actually, most of my family members have computers and internet service, and we keep in contact by emails, and also by Yahoo Messenger. We have a son in Missouri and a daughter in Utah, and we "talk" to them almost daily on Messenger. Also still have the cell phones on our sons family plan. So phone bills are no longer a big problem here. In fact, if I didn't need the phone line for my internet service, I would disconnect it completely, but we are in an area that so far has nothing to offer except dial-up or satellite, and that is a little more than we wish to pay.
Harlean from Arkansas

July 24, 2007
0

found this helpful
I just found this sight yesterday & got this email about saving on Long Distance. We have a cell phone for long distance, but I think the info here is more cost effective.
Does anyone know what Dean may mean about buying phone cards at a Salvage Store? I wonder if he means a store where they buy items from stores going out of business.
By Jonnie Cambron (Guest Post)
July 24, 2007
0

found this helpful
I buy phone cards at the Dollar Tree. For one dollar you get 30 minutes. I use very little long distance at home since I have a cell. But my hubby is hard of hearing and the cell just does not work for him so he has to use the land line for calling family in another county. Hope this helps someone!

July 24, 2007
0

found this helpful
Post By Dean (Guest Post) (07/20/2007)
I buy calling cards from a salvage store. They are 67 minutes for $1.50. Work out great. So I buy a bunch of them at a time.
I'm new here, so this is my first post.
I wonder what Dean meant when he said he got calling cards from a salvage store? Could that be a store that buys out other retailers?
By (Guest Post)
July 28, 2007
0

found this helpful
I have an all-inclusive phone plan....... at home, so I can call long-distance as needed without having to keep track of every little minute I'm on the phone.
And for when I'm out, I do have a prepaid cell phone for emergencies only!!! If someone finds themselves home most of the time...... this would work well.
By Diana (Guest Post)
July 28, 2007
0

found this helpful
Use Skype! Skype.com. I use it, it's awesome. $30.00 for unlimited calling to anywhere in the USA for a whole year! I can call landlines and cell phones. it's awesome! (no i don't work for skype, but i love it!)

March 25, 2008
0

found this helpful
I have to have a landline b/c I don't get cell service at my place. Even worse, I live JUST over the line from one A/C and another, so ALL my calls from home are long distance!
I ditched AT&T and got Unitel instead. I spend between $1 and $4 a month now on long distance! I don't use it much, but that used to be $20-30!
Answer

this Question

Seeking angels on earth who can help me. I need advice and opinions on the most reasonably priced, clearest reception, easiest to understand, and most reliable way of communicating long-distance, without having to worry about the expense each and every time I make a phone call. In other words, a specific cell phone carrier, Magic Jack, etc.
For me, it is long-distant to call any of my family; and I stay constantly depressed because of it, as my better judgment tells me, "I just cannot afford those individual phone calls." I even bought a Magic Jack 3 months ago, but have yet to hook it up. Because of so much negative feedback, I'm almost afraid to try it. Should I?
Someone please help to put my mind at ease, by sharing with me your own advice, opinions and/or personal experiences. I will be forever grateful. Thanks in advance, dear web friends.
Earthly Angel Mom
By Lois Jean from Brandenburg, KY
Answers

Judi
Bronze Feedback Medal for All Time! 239 Feedbacks
January 28, 2010
0

found this helpful
We use Verizon and have a set rate for our bil . All my family lives long distance away and I too had bills that I wanted to hide. Now no mater how much I talk (and I'm gabby!) my bill stays the same. They told me that unless I abused it (meaning used it for a business I quess) it wouldn't go up. You can go on the Verizon web site and read all about it. I don't know anything about Magic Jack.

January 29, 2010
0

found this helpful
Magic Jack is a good way to spend your money wisely assuming you have a decent internet connection and a computer. The call quality is good, but you need to use a computer to connect the Magic Jack to; without a computer, there is no phone.
There is a new product marketed by Nettalk (www.nettalk.com/) where you can get lifetime unlimited calls for $99.95. The nice thing about this product is that you can hook it up to your computer or directly to your internet modem. I have done some research on 2 different forums and people are pretty happy about it. So I am planning to get this product for myself.

Joan
Bronze Feedback Medal for All Time! 186 Feedbacks
January 29, 2010
0

found this helpful
I don't have long distance on my phone. I use prepaid phone cards for long distance. They cost more per minute, but when one is used up that's it for the month. A lot of people that I know have cell phones with a large amount of free minutes to be used at certain times.

Suntydt
Bronze Feedback Medal for All Time! 109 Feedbacks
January 31, 2010
0

found this helpful
What I have found that works for me is Verizon. Here are the highlights and some tips.
First - anyone you call who has Verizon as well is free. Period.
Second - they have free calls at night and all day weekends.
Third - they have the coverage. I had AT&T when I moved to Tennessee and in my new location I had no signal, and in many places in TN I had no coverage. Verizon did.
I highly recommend, no matter what service you buy, BUY your phone out right. I went into the store and asked if they had a used phone I could buy and they had 4 or 5. Perfectly good phones turned in for trade.
By purchasing your phone you don't have to have a contract (usually for two years). In a contract you have to pay the amount every month whether you can afford it or not. Off a contract you can cancel your service for a month if you need to and start it again later.
This would have saved me a lot of cash when I was laid up in a hospital for 6 months. I was paying for a phone I wasn't using.
And if you happen to go abroad to a country that has no service for your phone you can stop your service.
If you're a senior you can get a discounted monthly service. If you have an elderly relative that trusts you, get the phone in there name for the discounted service but use your address so you get the bills. Be responsible.

(Guest)
Gold Post Medal for All Time! 846 Posts
February 3, 2010
0

found this helpful
I use my local cable company for a basic 'bundle'. That includes land line phone with 24/7 long distance in all fifty states and Canada plus caller ID and call waiting. It also includes high speed cable for my computer and oodles of TV channels. All three services cost $115.00 a month (including all taxes) total and the price is good for one year. One month before the year is up I call the cable company and let them know I can't afford a rate raise and they extend the same price for another year. I've not had a rate raise in three years ;-)
Read More

Answers