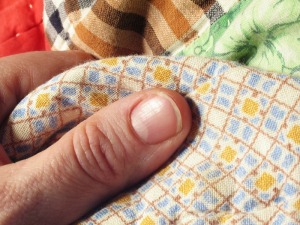 I don't quilt, but I do enjoy sewing small "cozy" projects that are quilt-like. When I need batting for these small projects, I buy fleece remnants from the remnant rack at the fabric store. Fleece has just enough "puffiness" to give the quilt look. There are always "puffy" samples in the remnant section. :)
By judijo from Santa Clarita, CA
Read More

Comments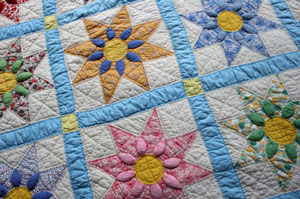 Here some ways to make your own quilt batting out of recycled These tips are from our ThriftyFun community. Post your own ideas below.
Flannel Instead Of Batting
I never use batting. Every time I do and then wash the quilt it just falls away from the quilting and bunches up in balls all over the quilt. I use layers of flannel.
By Allison
No Batting Quilts
I've made several "summer" quilts after seeing an antique one in a quilt shop. No batting at all, just the top and backing. Works best with a foundation pieced (on fabric) top and is just right for cooler summer nights on the porch swing.
By duckmom
Gut Sleeping Bags And Comforters
I have successfully used the guts of an old sleeping bag and an old comforter for batting. The stitching is easily removed and you can cut off the zippers (on sleeping bags) for possible reuse. Often comforter made for children are of cheap, nasty fabric that pills and fades instantly but the batting is polyester and fine. Kids probably have such items at home that they could bring in for a school project.
By teaysvalleygirl
Old Comforters
I have made several quilts by covering up stained or dated comforters that are still in good condition. I just made the quilt like a big pillowcase, sewed up the end and tacked it down in several places.
Deanna
Blankets And Other Fabric
I have known quilters that have re-used the following for batting. I don't know how well they worked but I can't imagine them not working.
Old blankets (wool, stained, hole-y, faded)
Old sheets (for use in thin summer blankets)
Fabric remnants (just look for same fabric content and fabric weight and lightly sew together to get the size you need.)
The good thing about using 'old' stuff is that it has probably been washed many times. It shouldn't shrink any more and your hand quilting (if you do that) should not pucker. As long as the outer has been pre-shrunk also.
By Rosalie
Cotton Blankets
Old cotton blankets are good batting for quilts. Mom used them in nearly all quilts she made, they laundered easily.
By Betty
Old Mattress Pads
Old mattress pads work well as quilt batting.
By Jewels955
Answers

March 30, 2007
0

found this helpful
thats great! I have reused quilts for new quilts...they worked out great and it didn't bunch up. :)

May 4, 2008
0

found this helpful
My first mother-in-law and her Mama were the ones that taught me to quilt, God rest their souls, and they always used old blankets. Those quilts were so warm and cozy? I am a member of our Freecycle group here and, when someone gives away blankets or I see some for a reasonable price at a garage sale, I latch onto it because you just never know when someone will need a blanket or two or that I want to have them to use for quilts.
February 18, 2016
0

found this helpful
I was at the store today getting things together to make my daughter a comforter and pillow cases for her birthday coming up and I actually picked up a mattress pad and thought you know what this would make great batting instead of spending all that money on the real stuff so that isn't awesome idea and great minds think alike

February 21, 2019
0

found this helpful
That is great idea, my granddaughter doesn't like the density from long arm quilting, she would rather have a comforter type quilt. I think this idea would work well.
Answer

this Question
Is it realistic to revive batting once it starts to separate? I've taken apart old worn quilts and have loads of used batting. I'd really love some ideas on how to reuse, revive, re-fluff, smooth it out, etc. Thanks in advance for any suggestions.
By debgram
Answers

July 27, 2011
0

found this helpful
If you ever make stuffed animals, pillows or even the draft stoppers (stop air from coming/going under door or window) they need to be stuffed, so i'd use the old batting. I would even use it when I make the covered photo albums.
When you take it out of the quilts I would try to pull it apart to try to fluff it up and make it less lumpy, sort of like when you try to get a knot out of long hair.
Answer

this Question