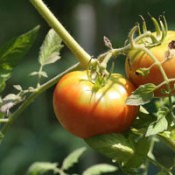 Here are suggestions on saving money on tomatoes as suggested by the ThriftyFun community.
Buy Local
Buy locally grown, they'll taste a lot better than any fresh tomato you'll purchase at the grocery, and cheaper. Or grow your own tomatoes, and other produce and herbs.
By badwater
Imperfect Tomatoes for Big Savings
I went to the farmer's market on a slow day (Tuesday) and went to my favorite produce stand. I always go straight for the "reduced" tomatoes. They might be a little soft or a bit bruised, but still very edible. I said, "Is this all you have?" I bought 15 pounds of tomatoes for 50¢ a pound. The regular price was $2.00 a pound and the supermarket price can be a high as $2.99 a pound.
I went right home and started cooking up the softest and most bruised. When I was done, I had a half dozen containers of tomato sauce. I even keep the watery tomato liquid and use it in soups. I still had about twenty tomatoes to eat. We've had a lot of tomato salads, tomato sandwiches, BLTs, etc, but you can't beat that price!
By samaree
Local Farmers
Local farmers are always cheaper. I like my local farmers market though, I get tomatoes 3 lbs. for $2, In fact I get good deals on all my produce, we are really lucky to have this particular guy. Don't forget growing them, they are really simple and produce tons with little care.
By Gina
Grow and Preserve Your Own
We grow cherry and Roma tomatoes, wash and freeze them. Adds a fresh taste to all spaghetti sauces. Have done with just fresh, frozen ones, very tasty. Just add your herbs and onions and green peppers, mushrooms, etc. The cherries I dump right in, then squash them because they are very hot in your mouth. The Romas, I put in warm to hot water about a minute then peel the skin off and put in. Try it. Never throw a tomato out again!
By Sharon
Use Canned Tomatoes
Although I love fresh tomatoes, there are a lot of recipes that work better with canned. There have been studies that show that of all vegetables, lycopene actually increases during the canning and cooking process. So that can of tomatoes is actually better for you than eating fresh (as long as there are no additives). I buy large cans at Costco and use them for making spaghetti sauce, chili and soups.
By Jess
Comments
Read More Comments