Store bought Wine Coolers are expensive so here are a couple of tips to make them yourself for a lot less money. No matter whether homemade or not, they are refreshing on a warm Spring or Summer day ;-)
Add a bit of sparkling water and ice to your favorite red, white, or rose wine or, my favorite, experiment with mixing wine with different fruit juices and/or flavored carbonated beverages.
By Deeli from Richland, WA
Read More Comments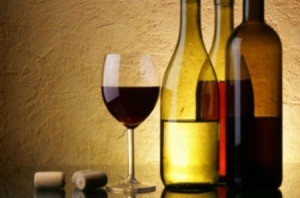 Tips for saving money on wine.
American Wines
American wines are some of the best in the world. Many years ago most vine grapes came to America from France. Then there was a terrible blight of French grape stock. Then Americans shipped the French grape stock back to France. French wines are now grown on American stock. Don't be a wine snob. Try wines from well known American producers. Very good wines at very good prices. If you prefer white wine with meat who cares? Drink what you want. Enjoy
By Hairy Wolf
Warehouse Stores
Warehouse stores, like Costco, have become one of the biggest sellers of wines in the country. One of the reasons is they have a low mark up. You can get a great deal on bulk wine there if you drink wine regularly.
Ask an Expert
Do you know someone who loves wine? Ask them for an inexpensive wine suggestion. People that know wine focus on taste over price and usually have an inexpensive favorite that they are proud to have discovered and will gladly share.
Larger Containers
Buy wine in a larger container. I think the one I buy is a gallon.
By Carol in PA
Trader Joes
Trader Joes stores sell wines that are supposed to be very inexpensive and good. It may depend on the wines they get but friends who drink wine, highly recommend it.
Drink Less
If you drink green tea instead of wine, it will reduce the desire for alcohol. Try it next time you want alcohol. It is cheaper too.
By Tom Cool
Do you have any tips for saving money on wine? Feel free to post them below.
Answers
May 23, 2008
0

found this helpful
Also, check out wines from Portugal, some of the Aussie wines are still cheap, as are some of the Argentinian wines. Check the reviews and rankings on wines on sale at BevMo, especially when they are having their buy one get the second for a penny sale. We sometimes splurge and buy the 10-20 dollar bottles (sometimes ones a little more) during those sales, as it essentially halves the cost per bottle. Also, somteimes wine.woot.com (type in your browser just like that) has great deals, provided you are in a state that allows wine to be shipped directly to you (if not, write your congressional representatives and senators, as well as your state reps).
May 23, 2008
0

found this helpful
For everyday vin du table - I like the Gallo Livingston Cellars the best - The merlot is particularly good. P.S. When buying bargain wine, you may want to get a bottle and try it out to make sure it's in good shape - as sometimes they have been mishandled and get sour.
(You can cook with them, then.) Also- red wines at a bargain place are usually a better value, because red wines IMPROVE with age! Whereas whites should be drunk young. I have even gotten good red vin ordinaire at the 99 Centy Store on occasion!
May 23, 2008
0

found this helpful
Trader Joe's wines are less than 3 bucks a bottle and are pretty good! We like the Shiraz.
By Amy (Guest Post)
May 24, 2008
0

found this helpful
The BEST way to save money on wine is to become a wine consultant. I am an independent wine consultant who gives personalized in home wine tasting parties. I earn extra money on my sales and I get 20% off the wine. The wines are world wide and because there is no "middle man" cost, you and your host and guests save!
You are getting 30-50% off wines that would retail in stores for $30-$60. What could be better especially if you LOVE wine!
Need more info- contact me at amyswinecellar AT aol.com and I'll get back to you.
By LadyD (Guest Post)
May 25, 2008
0

found this helpful
Here is Florida they have a liquor store that is a chain that price matches any ad. I find what I like in wine in an ad and circle the price and take with me to the store. I buy Livingston 3 liters and it is $10.99 at the ABC store and I paid $8.99 price match yesterday with a $1.00 coupon hanging on the bottle for a grand total of 7.99 for the 3 liters. That is a $3 savings. Always look for coupons if you buy a certain brand
Answer

this Question

...