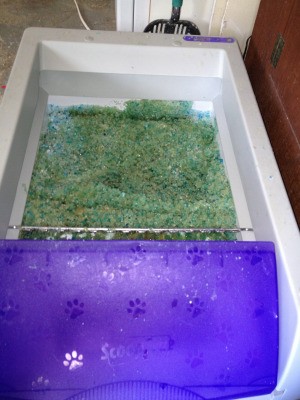 The ScoopFree automatic litter box system is a combination of an automated rake device which fits over a pre-packaged cardboard litter box filled with liquid absorbing crystals. The starter system cost me about $110 at Petco including the automatic rake and the tray refill. Each additional tray refill costs about $15 and, with one cat, is supposed to last up to a month.
Unfortunately for me, the ScoopFree has been a disaster. Setup was easy and the cat took to the litter box fine, but the first tray refill didn't last anywhere close to a month. After only about a week, the tray was already saturated with urine.
The system has an automatic rake which activates periodically. It first rakes forward pulling any solid material into a catch at the far end of the litter box. Then it rakes back re-distributing the crystals throughout the box and presenting a clean litter surface for the cat's next visit.
At least that's the theory. In practice, the crystals in my box clumped together so the middle of the box ended up nearly devoid of litter. Litter is pushed into the catch for solid waste end, but even worse litter ends up crushed in the area behind where the rake parks.
I can use a litter scoop to redistribute the crystals every day which helps some. Even so, after only about a week, the whole system is so saturated with urine that the tray refill has to be changed.
The cardboard tray refill is coated so the urine isn't supposed to seep through. The idea is that the lid can simply be put on the box and the box put in a garbage bag for disposal. Again in theory. Unfortunately, that only seems to work when the litter is distributed properly. One tray refill I changed was so damp that the cardboard had lost its structure. I had to slide a garbage bag under the tray because lifting it would have been impossible.
It's almost hard for me to overestimate how disgusting the device becomes when the litter is saturated.