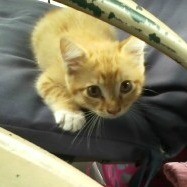 Your Pet's Age
8 weeks old :)
Your Pet's Breed
Manx
How and when did you get your pet?
The mommy cat's owner went to a rest home, and my neighbor took the mom in and she had four kittens. They were all placed except for this one, who has a genetic disability.
What does your pet like to do for fun?
He scoots around, due to Manx Syndrome. Due to his lack of a tail and one less vertabrae, he has legs that don't work the normal way. His legs drag behind him. He seems to be doing better on one of them.
He is a joy and I could not place him, knowing there might be surgery for any number of causes in his future.
Do you have anything else to share about your pet?
He is such a darling and so funny. He does not know he has a disability, and he is able to do anything he puts his little mind to. He is a joy to watch. The Black and White cat we have named Whiskers, was not able to be a mom, she has too many kittens and had to have surgery. She took over the care of this little kitten, and acts like a Mommy. The Orange cat on the patio is PNut. He is considering being freinds with this little one, Scooter, but on PNut's own terms. In the picture they are both watching a bug on the steps. In the photos, you can see a kitten with a stump for a tail, and a kitten with a long tail. I never knew until i fostered these babies that if you breed a manx with no tail to another manx with no tail, you will have all sorts of problems, like little Scooter has, only he is lucky and blessed and can walk and his internal organs were not affected.
He is our joy and he is home to stay with us.
Add your voice! Click below to comment. ThriftyFun is powered by your wisdom!
July 12, 2013
0

found this helpful
Scooter is absolutely adorable! Bless you for giving this wonderful little guy a loving home! Please give him a kiss and a chin scratch for me.
July 13, 2013
0

found this helpful
He's so adorable! I'm so glad you're keeping him, because he'll have a loving home and good care!
Please give him a hug or two for me and please post updates as he grows.
Add your voice! Click below to comment. ThriftyFun is powered by your wisdom!