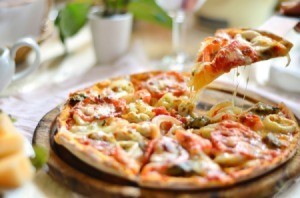 There is nothing more scrumptious then Magdalen Islands fresh seafood pizza, piled high with the most tender lobster, crab and scallops imaginable. No one knows more about seafood than the Island chefs. Although I don't consider myself a chef, I have played with a basic Magdalen Islands recipe, adding thyme, bay leaf, cloves and mushrooms and tweaking the pizza dough to make it rise better, yet taste less yeasty, and adding shrimp, therefore making it mine. The simple trick to this kind of pizza is in the slow cooking of the Bechamel sauce.
Pizza Dough
Ingredients
3 1/2 cups flour
1 cup warm water, not hot
1 tbsp yeast
2 tbsp sugar
1/4 cup olive oil
1/2 tsp. salt
Directions
Pour warm water, comfortable to touch, into a bowl. Add the sugar and salt. Blend with a wooden spoon. Add the yeast and mix. Let this mixture sit for about 5 minutes. Add 1 cup of flour and the olive oil and mix until well blended. Add the rest of the flour and mix well. The dough should turn into a ball. If the dough does not ball up because it's too dry, add water one tablespoon at a time until it does. If your mixture is more like a batter, add flour one tablespoon at a time. Adding water or flour as needed to get the right consistency will assure you always get a perfect dough. Just remember to do it in small amounts.
Once the dough is balled up, place the ball on a floured board and knead for about a minute. This helps the dough to rise and become fluffy when cooked. Place the dough in a plastic grocery bag or a covered bowl and store in a warm, dry area to rise.
After about 45 minutes the dough should have about doubled in size. Punch it down and let it rise for another hour to an hour and a half. Repeat if desired. The dough is now ready to be rolled out.
Bechamel Sauce
Ingredients
1/4 cup unsalted butter
1/4 cup all-purpose flour
2 cups milk
1 cup chopped mushrooms, optional
1 small onion studded with 2 or 3 cloves, optional
1 small bay leaf
dash dried leaf thyme, crumbled
salt and white pepper to taste
nutmeg, to taste
Directions
In a medium heavy saucepan, melt butter over low heat. When butter starts to foam, add flour all at once, mixing well with a wooden spoon. Cook over low heat 3 to 4 minutes, stirring constantly to incorporate and cook flour. Remove pan from heat and let stand, up to 15 minutes. Meanwhile, in a medium saucepan, scald milk (heating it until just below boiling point).
Return saucepan with roux to medium-low heat. Add all of the scalded milk at once (to avoid the formation of lumps). Simmer, stirring gently with a wire whisk or wooden spoon. Add onion studded with cloves, bay leaf, and thyme. A cup of mushrooms chopped into small pieces can be added to the sauce. Cook, stirring, over low heat, 15 to 20 minutes, until smooth and thickened. Strain sauce through fine-mesh strainer. Add salt, white pepper and nutmeg to taste. Set the sauce aside while you prepare the toppings. This makes about 2 cups of sauce.
Cook lobster, shell and break into bite-sized pieces. Do the same for the crab and scallops. If desired a can of baby shrimp can also be added to the layers of toppings. Have plenty shredded mozzarella cheese or three cheese pizza mix. When prepared this should make two large 15" pizzas.
Source: Although Magdalen Islands Chefs started the idea of a seafood recipe, this is my own because I have put my own flavours to the recipe, by adding bay leaves, cloves, mushrooms, bacon, a little thyme occasionally, tweaking the dough and Bechamel sauce.
By Winnie from Magdalen Islands, Quebec, Canada