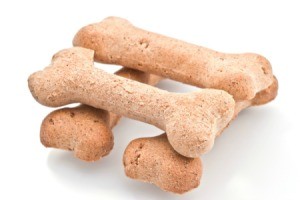 Does anyone have any tips for starting a home pet bakery? I'd like to make healthy pet treats using human-grade ingredients for my dogs at home and I thought of perhaps selling them in local shops, just for fun. I did see something somewhere about checking state and local laws, but I've reviewed state and local websites and can't find out any info. Any advice would be much appreciated. Thanks!
Jessica from Wisconsin
Answers

February 5, 2009
0

found this helpful
I've made many treats for my fussy dog. I found all the recipes on google.
Go there. Use only peanut butter in this point in time) that is ok for humans. At least until the recent scare is over. Buy at grocery store. I don't use peanut butter, my dog dislikes it. Lots of recipes, and you can test the taste, too. All I read and have used are made with healthy ingredients that are ok for humans.
Have fun. I made some in the shape of dog bones and then found a cookie cutter that looked like a human! She loved those! lol

February 5, 2009
0

found this helpful
I have looked into this for a couple years now. I know that for the state of Ohio there are regulations on what and how you can sell things. In Ohio each bag/box of goodies has to be labeled. On that label there has to be the name of your company, an address for correspondence, ALL ingredience AND the percentage of different ingredience according to the department of, gosh my mind went blank... the one where you check for livestock and such, sorry about that. Anyway, the process for me would be to make my treats, send them to that department's lab, they will do all the testing for a fee and send me back the info.
At that point I can sell the treats. I didn't follow through with it YET because I haven't saved up enough money for everything (packaging, testing, selling, etc). It is much like human food, you need that label that we see on our foods, on their bags. I do have some more info I could round up for you as I printed stuff off awhile ago. Contact me if you want to.
ksoderberg90@hotmail.com

Holly
Silver Post Medal for All Time! 364 Posts
February 7, 2009
0

found this helpful
When I read your query I thought of restaurant inspections and renting a commercial kitchen for the processing. I bet if you inquired from the city/county as to starting a restaurant, they could give you the info you require.
Answer

this Question