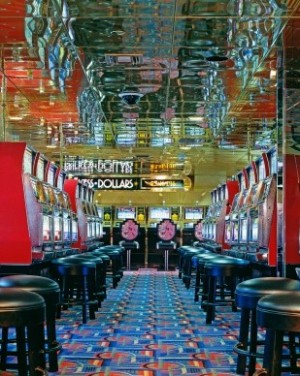 Not being the gambling type, my mind searched for an alternative activity as we drove to the Sands Casino. I'd agreed to go along with a group of friends to the newly constructed casino, a first for our area of the state. However, I knew I was not going to feed my money to a slot machine or spend it on expensive food at the bar and grill. Instead, I decided to conduct an experiment in gambling, and I learned a few strategies that give a green light to gambling entertainment for the less than die hard gambler.
Think of your trip to a casino in these terms. It's a bit of a sight seeing trip if you're off to Atlantic City or Vegas. Consider your gambling money as money spent on a trip or entertainment instead of money thrown away. How much would you spend to go to the movies or a dinner show? If you look at the time you spend in the casino in terms of hours of entertainment, then making $20 last two hours in the slot machines is the equivalent of a movie and popcorn. It's not the best way to save money, but there is a reasonable way to have fun in these elaborately decorated casinos.
Make It Last
The first part of my experiment involved comparison. As we sat at a line of slot machines, we were presented with a choice. Do we bet to play one line, three lines, or five lines at each spin? Each line cost a quarter, so we could bet between $0.25 up to $1.25 for each spin. My mind evaluated my reason for being there. Was I there to claim the less than likely jackpot or to entertain myself?
Only the largest jackpots go to those who bet the full throttle, but I wasn't there for that slim chance. I was there to entertain myself, so the longer I could make my money last the better. I spun quarter after quarter until I was bored, spending significantly less than my neighbors who put in the full bets.
Set Limits
To set a limit on overall gambling is fine, but to make it last longer set individual limits. I'm a low better, so my limits are low. As I sat down at one machine, randomly, I set a limit for myself. I fed the lowest bill possible into the machine - $10. If I grew bored with the machine, I would move to another. If I stayed at the machine and won, I had a rule that I would cash out when I doubled my money - $20. However, if I hit it big in one spin, I'd move on because the naive gambler in me believes that the machines only pay out every so often. If I win but not to the point of doubling my money, I cash out when I fall to my original feed - $10. This way I have a happy medium, I haven't blown my winnings or lost my fortune, and I've entertained myself.
Aim Low
Since my purpose was to entertain myself rather than to reach an early retirement, the aisles that held $0.01 slots amazed me. It wasn't a thrill at first because as I won I realized that I'd won a nickel. However, I let the penny pincher inside of me take over, and I watched the win total rather than the monetary total. In other words, I won five "tokens" not five cents. My 125 win was thrilling, inspiring a miniature victory dance despite the reality that I have won $1.25. A 125% return is thrilling no matter how much goes in my pocket.
To anyone seasoned at gambling, the penny slots don't sound exciting, and, honestly, it was a pretty desolate area of the casino. My friends has deserted me at that point, but in the end, the area impressed me. I started with $5 and played off that $5 for nearly forty-five minutes. Not bad entertainment.
Read More

Comments

I'm a 27 year old single woman and I live in Henderson, NV, close to Las Vegas. Problem is I gamble too much of my money when I get my paycheck. I find myself to be very bored when I don't gamble. I need some new hobbies. Any ideas on what I could do so I wont be bored would be appreciated. Thank you.
April from Henderson, NV
Answers
By Shellee (Guest Post)
October 20, 2007
0

found this helpful
Best Answer
I live in Carson City, Nevada, so I hear ya cluckin'! I got into the same scrape when I moved here. All those shiny lights and bells are mesmerizing! Here's how I survived: First, avoid the casinos at nearly all costs. If you can, have your checks automatically deposited into your checking account so you're not tempted to cash them at a casino. Second, if you do love to gamble, take only as much as you're willing to lose, your driver's license and your SS card ONLY, no debit or credit cards and play until you run out or are ahead and leave. It's not a way to make money, and the house always wins. It's a form of entertainment, like going to the movies or seeing a show.
As for hobbies: find things that keep your hands busy. Scrapbooking, knitting, crocheting, needlepoint, baking...Try several things to find one you like. Sometimes perusing the aisles at a craft store will give you some ideas. I'm a series mystery reader myself, so I log onto stopyourekillingme.com for author names and titles of books and see if I can find them at my local library for free. Find a favorite actor, research them at imdb.com and watch every movie he or she was ever in. Learn to read tarot cards or palms. Write haiku. Read or listen to "Women & Money" by Suze Orman for ideas about how to get your money to work for you rather than gambling. Invest in the stock market and watch your stocks. Get a coloring book and color every page. Go for a walk, play tennis, ride your bike, practice yoga, meditate. Read "The Joy of NOT Working" by Ernie J. Zelinski for other ideas.
There's tons of free or cheap stuff to do in Las Vegas. Look around to see what 's available.
Good luck to you!!

Julie
Bronze Feedback Medal for All Time! 149 Feedbacks
October 21, 2007
0

found this helpful
Best Answer
I agree with the other post. By getting in a healthy group of activites with people you not only make friends to keep your mind body & soul you do not waste your money and your rewards are many. Most classes of the crafts mentioned above are very low cost like 10-$15 some even free as long as you provide your supplies. Your money is not wasted because after the classes are over, in your spare time, you make what you have learned as a side job and earn more money.
My daughter & I took a cake decorating class and we loved it. I now make my own cakes and do not have to buy bakery cakes. We found our cake classes at our local vocational school. They offer many classes all through the year for all ages. You could plan your months activities ahead of time for different classes and be busy all the time to avoid that no end temptation of gambling. As soon as you get your check go straight to the bank and put it in. All craft stores offer these craft classes too like Michaels or Hobby Lobby.

October 22, 2007
0

found this helpful
Best Answer
Here is a website for the Henderson Parks & Recreation Centers.
Cityofhenderson.com - I live in LV and was so bored when not gambling I needed to find something to do. I joined a line dance class at one of the Clark County centers and loved it so much I became an instructor. It is a great way to stay in shape, meet nice people and laugh a lot. (By the way,I had never done line dancing previously!)
There are so many classes available, yoga, pilates, etc. at these centers both in LV and Henderson. Stop in and pick up a catalog.
So if you really want to stop gambling there are no excuses!

pam munro
Gold Post Medal for All Time! 519 Posts
October 22, 2007
0

found this helpful
Best Answer
Find anything you like to do - singing? Join a choir? Rockhunting? Join a group. You could even take up night time rock climbing on a climbing wall. You need to substitute for the "thrill" of gambling. Also look in on Gamblers Anonymous. There are lots of people with similar problems!
By (Guest Post)
October 23, 2007
0

found this helpful
Best Answer
I think only one person mentioned Gamblers Anonymous - It is a group that has the same problem and you can help each other out!
Answer

this Question