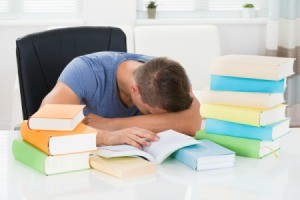 I set a curfew of 3:30am on the weekends, and 12:00 on week nights for my 20 year old son who is attending community college but living with us. He thinks this is unfair. We don't have any major problems with him like drugs, gambling, drinking, or being in a gang. He has very good grades and works part time. He buys his own clothes and rarely eats at home.
He doesn't contribute to the home, and keeps his room very untidy. Between work and college he is hardly home during the week. When he is home he stays in his room and doesn't socialize with the family. I don't know what to do about this. I have talked often to him about his attitude. He is like a stranger in my home.
Answers

December 29, 2006
0

found this helpful
Best Answer
He's at an age when he is learning to be his own person. This is OK, he needs to learn that. If he isn't being disrespectful other than not spending every waking minute while at home with other family members, I don't see the problem. He has a job and makes good grades, which means is a lot more responsible than many other people his age. If he's in his room a lot when he's home, he's probably studying. That's probably how he gets good grades. What kind of family time is he missing out on? I mean, is it like channel surfing in front of the tv or major family events like birthdays and such? Can a 20 year old really be expected to spend all their free time with their immediate family? He should be at important events, but he also needs to have his own social life. When I was in college I lived in the dorm and had a part time job. I was rarely in my dorm room and when I was, I was studying. If I had lived at home it would have been the same as your son-- not home much and spending lots of time alone studying when at home. It's not an "attitude" problem, it's just what you do at that age because of all the things going on in your life. Remember, adults just have to go to work, but most college students work and study and go to class and play sports... they're really busy at this age. I had to pay for some of my college tuition each semester and my parents paid the rest so I didn't feel entitled to anything, and I think having your son pay rent to you or pay some of tuition is reasonable.
You didn't mention if he is breaking curfew or not. If he is not breaking it, this may indicate that he knows to come home at a reasonable hour and when he says it's not fair he may just mean he resents having to follow a "rule" rather than be trusted to make the decision on his own. I am 24 and my younger brothers are 19 and 21. The 19 year old lives in the dorm at college and gets along with my parents great. The 21 year old lives at home and my mom has a lot of the same complaints you do. I think she just needs to give him more space, like as much space as he would have if he lived in a dorm. It's true that he shouldn't expect a free room and an all you can eat buffet, but I also don't think she can expect him to spend a significant amount of time at home with his parents at this age. He is not a child and he is not a teenager, he is an adult that is getting an education so he can better support himself in the near future. You should be proud of your son for juggling school and work and sticking with it. A lot of students drop out when they feel like they have too much on their plate. If you are supportive of him during this transitional time, he will appreciate it later because he will have had the opportunity to get an education and get a good job when he graduates.
By Jean in GA (Guest Post)
December 29, 2006
0

found this helpful
Best Answer
For a second there, I thought you were talking about MY 22 year old. They sound just alike. I let mine do as he pleases. His room is terrible, he has good grades, works part-time, doesn't eat at home. But, I am trying to treat him as if he DIDN'T live at home. The only difference in our children is mine does pay $50 rent a month, and he doesn't know this, but I put half of that $50 a month in a savings account for him for when he gets married, or does move out. He started doing that back when he turned 21 years old.
He does have his car insurance to pay, along with his cellphone bill, but other than that . . . no bills.
I think that when he turned 21, and I decided in MY mind that if he moved out, I wouldn't be able to control what he did, and at 21, he was still my baby, but, he was an adult by law.
I don't work, so I am always at home, but a lot of times he will come find me here at home, and want to talk. Most of the time, he stays in his room if he is home, but there are those times, when he is a chatter box. Also, now, he will want me or his brother to go out to eat lunch or supper with him, and he says he will pay! All of this started when I decided to let him "find his way". His dad is not like me, so they have a strained relationship.
My son calls me when he is going to be late at college, or working late. The only request that I have is that I want to know if he is going to be late coming home, and a general idea of where he is, and that he have his cell phone with him.
Every family has a different way of dealing with adult children, but I figure if he is a good kid, works, makes the dean's list, pays his bills, he can't be doing too bad.
Like I said earlier, when he turned 21, I let go a lot, because he had never given us trouble before, but his dad expects more. A higher paying job, new car, going to college full time. It can't be done, he would need more help from somewhere, only dad doesn't see that. My relationship with our son is good. With our son going to college part-time, working part-time (35 hours a week $300 a week), is hard. To make the dean's list, work too, he needs some "HIM" time.
Good luck! Wait and see, before you know it he will be coming to you and wanting to talk. Oh, I don't ever plan on him eating with us at meal times, the rest of the family just eats.

Cyinda
Bronze Post Medal for All Time! 213 Posts
December 28, 2006
2

found this helpful
---> My HOME rules for Adult/Children are these:
#1) When a child is 18 & graduates from high school, He or She pays room and board.... it may only be $50 or $100, (it depends on how much they make) but they need to learn responsibility. If they don't like it, they know where the door is & they can find out on their own just how much it cost to live elsewhere & buy their own food. BUT, you need to LAY DOWN THE LAW on this. Collect on the first of the month. No excuses what so ever.
#2) The adult/child must buy their own hygiene products & their own clothes (shampoo, razors, deodorant etc)
#3) If the adult/child has a car, He/She will pay for their own car repairs and car insurance. (or bus fare)
#4) They will pay for their own cell phone as this is a luxury.
#5) They will wash their own clothes and put them away.
#6) They will pick up after themselves and keep their area clean and neat. (or as I said earlier, they know where the door is! If this seems to strict, Why not fine them per day of mess, or assign them an additional chore each day their space is unkempt)
#7) They will keep a good attitude & treat the rest of the family with respect! This is non-negotiable! (Remember, your younger children are learning from them!)
#8) They will get a job & work at least part time, so they can learn responsibility and help with the above bills.
#9) No visitors or phone calls (on the house phone) after 10:PM.
#10) Of course they will have a curfew...(& I believe 3:30 is WAY to late... 1 or 2 AM is more like it. It should be even earlier if they are only 18 or 19.
#11) They will help with household chores such as, dishes, lawn mowing, vacuuming & taking the garbage out. (since they choose to be a member of the household & live at home at a low rent, they need to help with the household chores!) They also need to learn to cook & help with meals when they eat at home.
#12) The adult/child will keep you posted as to their schedule and whereabouts & let you know when they will be home, & call you if anything changes so you don't worry.
#13) Of course NO drugs, Cigarettes or Alcohol. If you find out they are using any of these, put them RIGHT SMACK in Rehab!
#14) If you are paying their tuition or even part of it, they are still responsible to follow YOUR rules, even if they move out... If they don't follow your rules, They can pay their own tuition.
*** When they pay their own way 100% Then & ONLY then, can they live & do as they like ***
-----> If they do not follow the above rules, they have one month to find a new place to live! (You can give them 3 strikes in 2 months if you like, But POST their rules, so there will be no arguing about them later!
-----> Any child will test the boundaries (it's their nature) and if you do not have clear posted rules, they will choose NOT to follow them. It's your JOB to teach them to be good, responsible citizens. If He/She just sits in his room and mopes, its because you are not following through. You need to POST these rules (or some to your liking) and MAKE them follow them, or they can find out the hard way by moving out!
-----> Children need to respect their parents and the rules of the household, & watch their language no mater what their age!
* One more note, When my children reached Jr High school age, I had them sit down with me every month as I paid the bills: I had them write out the checks for each bill, stamp them & address them as I watched. This way they learned: How much it cost to run a household, How to write a check, Basic Bill paying & Budgeting, Where the money goes & why they can't have everything they want. All 4 children are now grown adults & they all have thanked me for this experience.
By Michawn (Guest Post)
December 28, 2006
2

found this helpful
Yep, Cyinda took ALL the words outta my mouth. When I moved back home after "being adult" (having a baby giving it up for adoption and having another all before my 20th birthday) I was allowed to decompress for several months (this was unspoken, I think we ALL needed it). Then I had to pay my way. I cooked, cleaned (same by NOON on Saturday schedule my sister and I followed when we were growing up) and kept my room up (well tried too, I STILL work on that one!!!). I went back to college (albeit at first to just be with adults) and earned a degree (with honors) and worked full time (by then I had moved out). I didn't have a curfew, because I just didn't go out, or if I did I ASKED PERMISSION (course someone had to be responsible for the baby if he cried in the night) and always was home by 11 or so (my own decision).
BUT WHAT ARE OUR parents teaching us, but to live as an adult? I thank my parents everyday for those years.
Read More

Answers