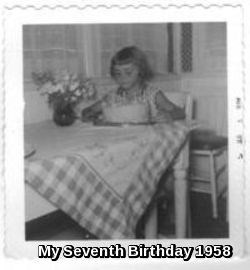 Today is my birthday and I'm so, so excited. I'm seven years old now. I don't know why being seven is better than being six. It just is. Maybe it's because whenever I really want something, Mum always says when you're older. So now I'm older and maybe we can get the baby kitty I want.
I saw my fish having babies this morning. They came right out of her bum and they already know how to swim. Ha, the babies have the same birthday as me.
Yesterday, Mum cut my hair. She said I have to look good because she'll be taking a picture of me today with my birthday cake. Well have cake after supper. I love cake, especially the icing. It'll have 7 candles on it, one for every birthday I've had.
The best part is that Mum will let me lick the bowl when she makes the icing. Whoever has the birthday gets to lick the bowl and spoon. Maybe I'll let Johnny lick the spoon. He's only 5 and pulls my hair and sticks his tongue out at me all the time. But if he's nice today, I'll be nice too. I'm older than him and I'm supposed to be nicer than him.
Mum only makes cakes for birthdays and Christmas cause she says they're for special times. And she said that I can pick whatever I want for supper tonight because its my birthday. So that proves it, my birthday is special.
My favorite supper in the whole wide world is pannekoek and thats what were having. Theyre these flat, round things that Mum makes and theyre as big as my plate. You put whatever you want in the middle then roll them up like a big fat sausage. I like putting peaches and whipping cream in mine. Theyre a little hard to eat cause the stuff squishes out the ends and theyre really gooey and good. Im going to stuff myself and eat and eat and eat until I can't eat another bite.
The peaches are ones that Dad brought home from somebody's house that he was working at and I helped Mum clean them so she could put them in jars with sugar water. And the cream comes in a bottle from Mr. Bill, our milkman.
My friend Ann who lives next door always gets a present on her birthday and so did my friend Barbara from school. I won't get a present because Mum says only rich people give presents for birthdays and we're not rich. I don't know what rich means.
Today I can open the birthday card that Tante Lotte mailed me. She always puts a dollar in my birthday card. Shes not really my Tante but Mum makes me call all her friends Tante or Oom because she says it's not nice for kids to call old people by their first name. I've never seen any of my real Tantes or Ooms because they live far away in a place called Holland.
Mum said because I'm seven, I'm old enough to start a piggybank.
Its not really a pig, it's only a stupid box with a hole in the top, but she calls it a piggybank. I have to put some of the money in my piggybank but I can keep 10 cents. She says that when I'm older, maybe when I'm eight or nine, I'll know why I have to put money in the box.
I already know what I'm going to do with my 10 cents. At Eve's store down the street, I can get 3 blackballs for a penny and then I can get 3 red licorice shoelaces for another penny. I love sucking on the blackballs and looking at my black tongue in the mirror. It takes a long time to suck a blackball until it's all gone. A bag of potato chips is 5 cents and so is a chocolate bar but I don't know what I'm going to get. Maybe I'll get a whole bag of blackballs so I can have them for a long time. I'll hide them under my bed so Johnny won't find them.
I love having my birthday! It's not as good as Christmas because then I'll get a present and we'll have a tree in our living room, but it's almost as good.