Sewing Machine Not Picking Up Bobbin Thread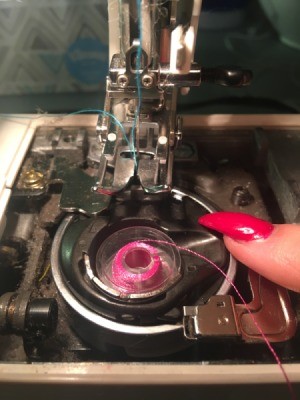 Today I was sewing and I noticed my machine wasn't making the bottom threads. I changed the needle, thread, and bobbin and then I realized that the black plastic part that holds my bobbin isn't spinning with the outer silver rim that is spinning making the thread not catch when I try to thread the needle. I can also email you a video to show exactly what is happening if need be. Also, when I turn the thing to make the needle go up and down, as the needle reaches its peak, it gets hard to turn if that helps/makes sense.
Please help!
Add your voice! Click below to answer. ThriftyFun is powered by your wisdom!
January 21, 2019
0

found this helpful
There is a screw in the bobbin case. See if the two pieces got separated. If not, you may have a broken gear or lever and the machine will need servicing.
January 22, 2019
0

found this helpful
there is definitely a broken or stuck component. If you look with a magnifying glass and pull the machine apart you may be able to see what it is that went missing. When parts stop moving it's because a gear that connected them broke. If one gets stuck it's because that piece that broke off is impeding proper forward motion.
best take it to a shop
January 28, 2019
0

found this helpful
Hello ! I think that you should first take the vacuum cleaner and try to get rid of the thread dust. Then check what looks like a piece of thick yellow thread and seems to be at the bottom on the left side of the picture because if it is hard to manually lift up the needle by turning the handle it could be because a bunch of thread got stuck, or got tangled around something, somewhere. The bobbin, and the case of the bobbin are passive.
It is the outside metal ring, that goes round back and forth and under wich rim, you, manually slide the bobbin thread under, and then slide it out, that makes the bobbin turn round, by simply pulling the thread. To get rid of the entangled thread, if there is any, cut the bunch with scisors and then get it out pieces by pieces with tweezers. After this you should also oil the machine because the dust of the threads dries out the oil from the mecanic parts by absorbing it.
Hope this helps !
Add your voice! Click below to answer. ThriftyFun is powered by your wisdom!
Categories
Pages
More
Categories