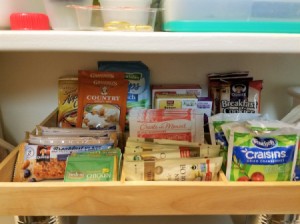 I was forever looking for my little packaged goods. Now they are all in one place. I sat the shadowbox on four cans. For stability, you can use full cans with rocks or sand in them.
If the box has a lip on the bottom, like mine did, this helps to keep the box from sliding off the cans. If not, a bit of hot glue is in order for the rims of the cans.
Then I sat it on top, and began to fill the square "cubbies".
I have things like ranch dip, gelatin, broth mix, coconut oil, cookies, etc.
Being an organized person, this really helps. I hope it might inspire you, too!
N-JOY!!