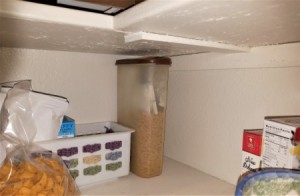 I have a big pantry. That said, I also share it with clothes, crafts, and things to sell. So, when I can, I try and make things like food take up less room. I put little things inside bigger things and those inside other things, etc. One thing that always helps me is to consolidate things that are alike to save space.
I opened 5 boxes of mac and cheese and dumped into a larger container. Each time I cook one, I know I will need just 8 oz. of pasta and one package of cheese mix.
And the best thing is if there was a leak or summer heat took over, the pasta would be safe and dry.
N-JOY!