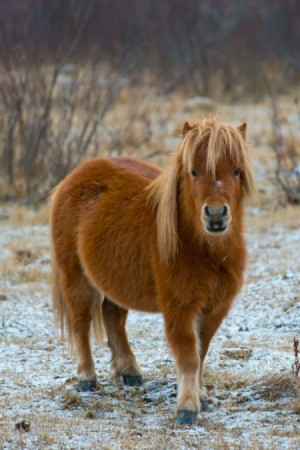 People all over the world love the Shetland pony for its shaggy coat, long mane and tail, and muscular, round body. Considered highly intelligent and unusually strong for its small size, Shetland ponies have earned a reputation for being gentle, patient, and trustworthy with children.
Shetland Island Origins
Shetland ponies, or Shelties, are named for the Shetland Islands off the northern coast of Scotland. No one is sure how the ponies originally got there (there is speculation that they arrived with the Vikings during the 800s), but according to stone carvings discovered on the islands, they have been residents for more than 1,000 years. The islands are cold and stormy there are few trees, and strong winds and ocean waves batter the islands much of the year. This harsh climate and combined with a scarce food supply helped the ponies develop their hardy nature.
A History of Hard Labor
The Shetland ponies helped island people plow the island's rocky soil and transport heavy loads to and from the market. Over time they earned a reputation for doing extra-hard work and caught the attention of the British mainlanders. In the mid-1800s, after a change in English child labor laws, many Shetland ponies were taken to the mainland (and also America) and put to work in coal mines. As pit ponies, they were small enough to navigate the low, narrow shafts and strong enough to pull heavy loads of coal. The ponies worked long days in the cold, damp mines and many of them suffered greatly. Many spent their entire lives underground without ever seeing the light of day. By the mid-19th century, it is estimated that as many as 90,000 ponies were working inside the mines.
Thankfully, machines came along that could do the underground work and the ponies were eventually phased out of working in the mines.
Even while many of the Shelties were working as pit ponies, some breeders in England and Scotland saw the Shetland's potential as a children's horse. The United States and Canada were interested in the Shetland, too. They knew this breed would be as popular in North America as it already was in England. Today, the Shetland pony enjoys worldwide popularity as a kid's horse. Not only are they agreeable, trustworthy, and patient, but should a child fall off while riding, it's a lot shorter distance to fall.
Shetland Ponies in North America
In England and Scotland, breeders have tried to keep the Shetland pony's original features. But in North America, breeders have changed the look of the Shetland pony through breeding. They've bred it with a taller pony known as the Hackney to create more refined and horse-like physical features. As a result, Shetland ponies in the United States and Canada are less boxy and have longer legs than their cousins in England and Scotland.
Quick Facts about Shetland PoniesOrigin:
Shetland Islands of Scotland.
History:
Shetland ponies were originally used for hauling and agricultural purposes and as pit ponies in the coal mines of England, Scotland, and America. Today they are a popular breed for children.
Personality:
Generally considered smart, friendly, and trustworthy.
Height:
Shetland pony registries recognize different height standards in different countries. American Shetland Ponies, which are a separate breed from British Shetland ponies, average about 42 inches (106 cm) tall at the withers (the top of the shoulders). Many are smaller, and some are as tall as 46 inches (116 cm).
Weight:
They often weigh about 300 to 500 pounds (140 to 230 kilograms).
Physical traits:
They are sturdy and well-built with a barrel-shaped body and strong hind quarters; small square head and large nostrils; a thick, double coat and a very full mane and tail.
Coat colors:
black, bay, chestnut, roan, gray, cream, and dun; color patterns including pinto, buckskin, and palomino.
Life-span:
Shetland ponies live longer than many other horses. Many live into their late twenties and thirties. One Shetland pony born in Germany lived to be 50!
Uses:
Shetlands are popular children's ponies. They are used for harness racing, pulling carts and buggies, horse show events, pleasure riding, and therapy purposes.