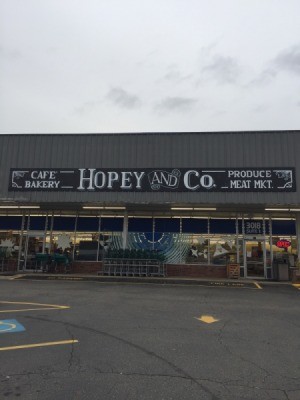 Salvage stores are a great way to save some money, while having terrific stuff. A salvage store is a local establishment that buys out of date and possibly shelf-damaged stuff from local supermarkets, grocery stores, etc. As such, the items you are liable to find are going to be:
The less-popular products (ie: an experimental flavour of chips that didn't sell so well)
Close to expiry date. The rules say they're not allowed to sell anything truly harmful, but at times, things like chips can have a more stale flavour than otherwise. The few times I've found a truly rotted/expired product, our local store let us get a refund.
Banged up, in terms of packaging, in some way. For boxed food, this should not be a problem if the packaging is intact, but with cans you might want to be more circumspect.
We are blessed in our area to have three salvage stores. One is part of a semi national chain called Grocery Outlet, one is a real dive called Dickie's (with 3 locations - this is the site with the real banged-up looking stuff and the 5lbs of energy bars for $1), and the superstar, the Hopey's!
Hopey's is AMAZING because they carry really awesome specialty, gourmet, and organic stuff. They also provide bulk items, wine, and fresh produce, something that doesn't happen often with these sorts of establishments. As if that were not enough, at Thanksgiving you can get a whole turkey 1/2 price if you've recently spent $50 there! There's 3 locations and the one pictured even has a cafe/deli in it! It is easily my fave place to hang out.
The other thing to remember about these establishments is that it is very much a "luck of the draw" circumstance. So if you find something you really love there, make sure to stock up!
Here is a link that might help you locate a local salvage store to really help you get cheap groceries in your area, and more about them:
You could also google salvage stores for your local area.