Sandy Bass
Bronze Post Medal for All Time! 114 Posts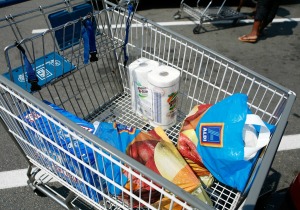 We have become regular ALDI shoppers because of the consistently low prices for very good quality products. For those who aren't familiar with this name, it is a company based in Germany and has been around Europe for quite a while. While many people are put off because of their warehouse style of display and no bags or credit cards, as our economy becomes more and more tenuous, these "inconveniences" will not be quite so distasteful.
Yesterday on the Clark Howard radio talk show, he was discussing this very topic and put numbers with it. He said that ALDI is across the board 20% lower in their prices than the big discount grocery stores we are accustomed to. Their house brand of double stuffed chocolate cookies were selected 100% of the time over the name brand ones in a blind taste test. If there's one anywhere near you, you might want to give it a try.
By Sandy from Elon, NC
Editor's Note: Here is a link to Aldi's, if you want to check to see if there is one in your area.
Read More

Comments

We have a new grocery chain in our area. The prices are very good, for instance eggs for 49 cents a dozen. However, the brand names of canned goods and such are not familiar to me. Does anyone shop at ALDI? And can you suggest which brands compare to the House-Brands at the other grocery chains? Thanks.
By Barbara Petty from East TN
Answers

March 23, 2009
0

found this helpful
I have an Aldi in the same town where I do my grocery shopping, and we decided to try it the other week for a change of pace. All I can say (and maybe not every store is like this) is yuck. The cream of chicken soup had a burnt taste, even in the microwave. The grapes had mold, and some other veggies had little bugs on them. The only things that were ok were milk and cheese- the block kind, not sliced.
Their brand of soda is a good deal, though. We aren't a picky family (we love sav-a-lot) but this stuff was just horrible, and we'll never shop there again. *P.S.- we did complain about the bugs in the produce section- the manager told me that he advises just washing anything before eating. Wish I could be of more help, but we had a poor experience with this store.

March 23, 2009
0

found this helpful
We lived in Texas and the Save A Lot was in a low income
area and wasn't that clean. In Kansas where we lived we loved it. Maybe it depends on the manager I don't know.Some
of the brands I like some I don't. You just have to try a can of this and that until you know what you like. we have
bought the cheaper brands of canned vegetables and they work good for most of them. Just give it a try. The meat department in our Aldis is great. Grandma Bess

March 23, 2009
0

found this helpful
Although I have not been shopping At Aldi very long, (2-3 months), I have been very pleased with the quality of the foods I have bought. The Fit'n Trim products are excellent. All the frozen goods, veggies,meats, link sausages, wine, dairy products...virtually everything I can think of has been good, and has saved us substancially on our grocery bill.
I highly recommend Aldi for anyone trying to economize. Individual stores could vary though.

March 23, 2009
0

found this helpful
Here in Indiana Aldi's are wonderful! The bread is always fresher than any other regular grocery store. We have bought their canned vegetables and fruits for years and they have the best prices around. I am sure there are a few things that are not as good as a name brand but you will find that true with any generics. Eggs, milk and butter are just as good as any name brand but at a much better price. Happy shopping!
I love Aldi's. Some of there things are not that great, but most are. Plus, you get the double your money back if you do not like an item. Their prices are out of site. I can feed my family of 4 for 80 a week.
That even includes some junk food for the kids. If you go to a good one their grapes are great. Nice and tangy. Some things I still buy from my Krogers, but most things I get at Aldi. Love it.

March 23, 2009
0

found this helpful
Barbara, you are sooo lucky to have an Aldi's near you. They are a German store and I shopped there when I lived in Minnesota. I like the idea that you have to 'pay' to borrow a shopping cart and get your money back when you return it. I hope the Aldi store will move west and eventually hit California, where I now live. I remember being a 'pick and choose' mom when I shopped there, but there were many things that I really loved to buy there and saved a bunch of money.
I especially liked their cheap flower bouquets, coffee, fruits and veggies, and other items that I cannot remember. I hope someone will help you out with the brand itself; I don't remember anything about that. Sorry, but happy shopping.
Read More

Answers

Where in Fort Worth, Texas is a Aldi's food store located?

Nancy from Fort Worth, TX

Answers

Marjorie
Silver Feedback Medal for All Time! 290 Feedbacks
September 10, 2007
0

found this helpful
www.aldifoods.com/index_ENU_HTML.htm
I checked their website and didn't find Aldi Foods in your area as yet.
Marge from NY
By bambi2003 (Guest Post)
September 12, 2007
0

found this helpful
I lived in Irving then McKinney for 3 years and never found an Aldi, but I've heard that Save A Lot is owned by Aldi and I know we had them in Irving and I think McKinney too, you might want to see about that store. I like Aldi a lot better myself, but they're prices were very cheap, cheaper than most of the other stores in TX.
If you want a good value you might want to check out the .99 stores they even have a refridgerated section and I always found bargains there. Hope that helps.
By Jerry (Guest Post)
October 28, 2008
0

found this helpful
They are building an Alidi's in Saginaw to be open this Jan.
By Terry (Guest Post)
February 2, 2009
0

found this helpful
They said they would open one here last yr in Hurst , but for some reason it never open. Terry
By Tina (Guest Post)
February 11, 2009
0

found this helpful
There is one at Mccart + Sycamore School Rd in Fort worth and one at sh183 + Green Oaks in White Settlement, Euless at Plano + Richardson. Not sure if open yet, my company is subcontractor for some of the work with the stores.
Read More

Answers
I am looking for nearest location of a Aldi's store in. I am in Mitchellville, Maryland.

Priscilla

Answers
By lora (Guest Post)
October 7, 2005
0

found this helpful
there site is http://www.aldi.com go there click on location and they will tell you the stores closet to you. I live a hour from our closet one but at there prices i still think its worth it. Lori

October 9, 2005
0

found this helpful
By KLS8800 (Guest Post)
October 9, 2005
0

found this helpful
I live about 15 miles from one, and I shop there all the time. I get about 75% of my groceries from there. It is silly to pay $2.00 for a loaf of bread when I can buy it for about .60. Other savings are great, too. I buy very few things from 'regular' food stores. I spent about $80 at Aldis and came home with a ton of food. At a 'regular' food store, I doubt I'd have brought five bags home.
By sheri guest (Guest Post)
October 11, 2005
0

found this helpful
The closest stores to you that I know of are: Hyattsville (it's on Hamilton Street off of Queen's Chapel). Another one is on Marlboro Pike in District Heights area. If you go toward Baltimore at all there is one in Glen Burnie also.
Answer

this Question
Where is an Aldi's that is close to Huntsville, Alabama?

Aretha from Huntsville, AL

Answers
By Barbara (Guest Post)
September 28, 2006
0

found this helpful
There is one in Florence, Alabama. www.aldi.com has a store locator and you might be able to find a store closer.
Good luck. They certainly have wonderful prices for your basic grocery needs.

September 29, 2006
0

found this helpful
I did a Google search, and the closest Aldi to Huntsville is in Florence, Alabama. The address is 411 Cox Creek Parkway, Florence, AL 35630. The website said it is about 60 miles away.

October 2, 2006
0

found this helpful
There is one in Decatur, AL that recently opened.
It's in Plum Tree Center on the Beltline(Highway 67). Travel from Huntsville on 565 toward Decatur. Where 565 ends take Interstate 65 South toward Birmingham and then take the Decatur/Priceville exit toward Decatur which puts you on Hwy 67. The store is about 4 or 5 miles from the exit. Hope this helps.
Answer

this Question