Search out the Bent N Dent grocery stores or salvage grocery stores. I've bought a whole grocery cart full of food, no meat, for $40 which included cosmetics, pantyhose, paper products, and food.
By Betty G.

Answers:
Discount Grocery Stores
You have to be careful with dented cans and such. It actually can cause (or allow) bacterial growth in meats, vegetables, and soups. But the paper products and stuff in boxes and whatnot is a great deal. (11/19/2004)

By Maggie
Discount Grocery Stores
I used to live in CT. My mom actually still shops at a line of grocery stores called Aldi, very cheap, quality products. They are all over CT. go to aldi.com for a store locator. There are stores in Waterbury, Bristol, etc. (09/18/2006)

By Jess
Discount Grocery Stores
Manny's Discount Grocery
(760) 379-3115
3864 Lake Isabella Blvd
Bodfish, CA 93205

Bodfish is in the Kern River Valley area of California. Have you heard of Lake Isabella? It's there. About 1 hour NE of Bakersfield on HWY 178.
This isn't like your usual "dented can" store. In between the ordinary stuff (cereals, shampoo, canned stuff) are rare and unusual items (from time to time).
I just got 4 2 lb. bottles of Ghee (clarified butter) for $1 each. When she has too much stock of an item, she usually marks it down further.

I got 1 lb. boxes of DeCecco Superfino Carnaroli rice for 20 cents each (vacuum packaged to last forever). Some items you'll see only once. Everyday: Salad dressing for 25 cents from the ordinary (Kraft, Bernstein's, Ken's, etc.) to the sublime (Maille, Layao's, Girard's, etc). No produce. No meat. Sometimes Manny has dog/cat food (sometimes not). I got Alessi White Balsamic Pear Infused Vinegar 3 for $1 (usually Manny had it marked 59 cents). It is $4.89 or so most retail locations.
Worth the trip to Bodfish. (04/13/2007)

By Richard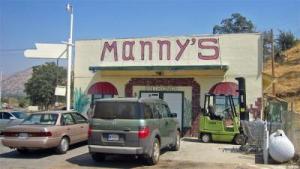 Discount Grocery Stores
For the girl looking for discount food in Tucson, AZ. you have a Sav-A-Lot in Tucson. (12/14/2007)

Discount Grocery Stores
We own Bontrager Salvage Groceries and Thrift Store located in Trumbull County, OH. I loved shopping discount stores before we opened our own and now we love owning one. We have been in business for over 2 years and keep expanding our lines. We were strictly salvage food items, but we now carry many other items as well, health and beauty, cleaning, pet food, etc.

We also carry used (some new) thrift items. Kids clothes, toys, books, Precious Moments, Boyd's Bears, Fiesta Dishes, antiques, and more. Our store has something for everyone. We love to meet new people and would love to have anyone interested drop by. Feel free to call us for directions, or you can check out our eBay site for more information, user name Julieannbon. Our phone number is 330-889-3678. We are open from 9am-7pm weekdays, and 9am-5pm on Saturday.
bontragersalvage at embarqmail.com (02/26/2008)

By Julie
Discount Grocery Stores
For your Oregonians, check out The Grocery Depot in Lebanon. It's a discount grocery store and well worth the trip for the great prices. (05/15/2008)

By Christina
Discount Grocery Stores
I shop at a local discount grocery store, (bent-n-dent) here in the Wautoma, WI area that's quite popular with bargain hunters. They have been in business about three years and have built a new expanded store with lots of deals on groceries. They also carry local fresh bakery, milk and dairy items. Their website is: countrydiscountgrocery.com
I also found a nationwide list of salvage grocery stores at: andersonsmarket.info (05/24/2008)

By captain lightning
Discount Grocery Stores
We Own L and G Discount Grocery Store in Stuart, Florida the number is 772-287-1404. We have new Summer hours Tue-Friday from 9-6:00pm Sat and Sun 9am - 4:30pm. Mondays we are closed. We are in the B and A Flea Market. We carry everything that a grocery store has except meat or dairy products. You can save 30 to 50% over your local supermarket. (06/11/2008)

By Lucy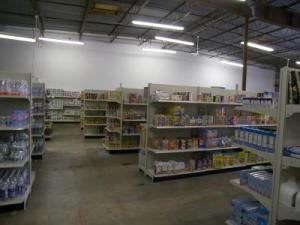 Discount Grocery Stores
Denver Wholesale Foods
P.O. Box 309
Denver, PA 17517
Phone: 717-336-1966
Fax: 717-336-1967
Mobile: 717-829-3067
E-mail: rdavido AT denverfoods.net
Website: www.denverfoods.net

Denver Wholesale Foods is a large wholesale distributor in beautiful Lancaster County, Pennsylvania. Our team of dedicated employees works hard to make your closeout connections happen. We purchase and distribute manufacturer's closeouts, factory seconds, overruns, insurance claims, liquidations, warehouse damage, close-coded products, out-of-code products, and distressed products.

Frozen - We purchase many frozen retail and food service items including meats, deli, seafood, ice cream, vegetables, entrees, and all other frozen foods.

Refrigerated - We purchase refrigerated items such as dairy, drinks, yogurts, and desserts.

Dry - We purchase dry products including snacks, cereal, bread, canned, and any shelf stable items as well as HBA, and household items. We run an order picking operation and service many of our customers on a weekly or biweekly basis. We distribute to a seven state area, Pennsylvania and all surrounding states.

We take our products strictly to the secondary market which includes discount grocery stores, independent dollar stores, prisons, food banks, church camps, restaurants, commissaries, and small manufacturers. We can honor any geographical and product restrictions.

We buy small and large quantities and typically purchase at deep discounts and pass the saving onto the customer. Also call us regarding our Banana boxes we have.

To access Website: username Sell and password Food
(08/06/2008)

By Robert D.
Discount Grocery Stores
Attn: Discount Store Owner
Please contact San Marc Liquidators in Philadelphia, PA if you are looking to purchase discount food products to fill you stores. We carry frozen food and dry goods as well. Call 215-969-6955 or e mail info@sanmarcliquidators.com we can send you a current product list. (10/30/2008)

By Randy
Discount Grocery Stores
I am the Warehouse/Sales Rep for Buy-Rite Liquidators Inc. in Blandon, PA. We handle closeouts, Banana boxes, Hba, general Mdse. Our company always has a large inventory on hand. Call us at 610-926-4444 or visit our web page at Buyriteliquidators.com (11/26/2008)

By Missy
Discount Grocery Stores
We are National Distributors of Food and Beverage closeouts since 1993. We deal direct to end users only. We deliver all over the USA. If you are capable of buying truckloads dry or frozen.

Please call Adam
Wham Food and Beverage
954-927-7052
(02/02/2009)

By Adam B.
Discount Grocery Stores
Hidden Valley Industries is a food wholesale company located in Menomonie, WI. We deal in all types of canned food products. Also cereals and pastas. The size of our product ranges from retail to institutional to bulk. Our product can be labeled and undented. Some product is dented, close dated or dated, and excess or overstock from vendors. You can check out our website at www.hiddenvalleyindustries.com
(07/20/2009)

By Melanie
Discount Grocery Stores
We are a Chicago based meat broker specializing in closeout and liquidation. Please email info AT chicagomeatoutlet.com for more details. (12/07/2009)

By Sam