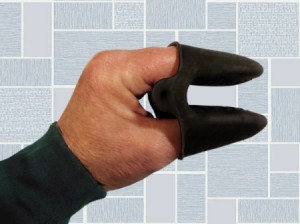 I have some nice, cotton filled pot holders, printed with cute designs. They're quilted and have a wooden ring for hanging. I don't think they're very practical for handling really hot items, though.
I made a great find I wanted to share with you. While shopping at Dollar Tree, I ran across a new item; silicone kitchen mitts. No need to tell you, they were just a dollar.
I've been using this one for a week, now. I really like it. It does provide much more protection than the cotton, quilted pot holders. Yesterday, I used it to lower a quite hot oven rack. It was perfect. I'll keep this little mitt by my stove at all times.
In case you're interested, they do come in several colors.