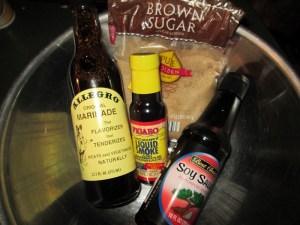 Store-bought jerky is very expensive! Don't be intimidated about making your own at home. Borrow a food dehydrator if you don't have one. I use my Dad's since I only make jerky a few times a year. This being deer season, many people are making jerky right now and this is a good, simple marinade.

Total Time: 45 minutes to prep, and several hours to finish.
Yield: Depends on how much meat you start with.
Source: My father used a similar recipe, I adjusted to include Allegro marinade.
Ingredients:
3/4 bottle Allegro Meat Marinade
2 bottles soy sauce (cheap is fine), 10 ounces each
2 cups packed light brown sugar
2 tsp liquid smoke
For the meat:

I use eye of round roast, but any very lean beef can work, or deer meat. Slice it very thin (or have the butcher do this for you). I tenderize each piece by using a meat mallet, then cut into long strips. Ground beef can also be used if you have a jerky extruder to form sticks.

This recipe can be adjusted for your amount of meat, just keep proportions right. This amount listed here is sufficient to marinate several pounds if meat if it is marinated in gallon size baggies to reduce the amount needed. I rarely have wasted marinade.
Steps:
As a base for my marinade, I use a bottled meat marinade called Allegro. It is available locally in many places, and is made in my hometown. I use the Original, but there is also Hot & Spicy and Game Tame (for wild game)which have a flavor which can work for this.
Pour over meat and work in well to cover each piece. Place in gallon size baggies. Marinate the meat several hours of overnight, squishing around the bags to distribute the marinade evenly.
Dry in jerky machine as instructed on machine.
Add your voice! Click below to comment. ThriftyFun is powered by your wisdom!