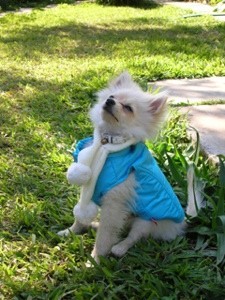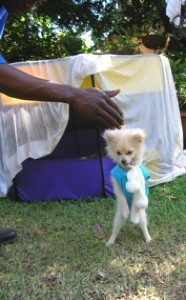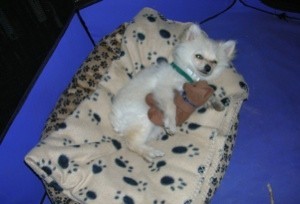 Skippy is almost 5 months old. He is a Pomeranian. We got him on the 18th of May at 10 weeks old. He likes to play with us, play with his toys, run in the garden, and most of all loves his treats. He sat in a child's pushchair for the photo and loved being wheeled about in it. I think he is rather vain, as when I take photos he really poses for them.

A great joy for me. This is the first time I have had a Toy Pom (or any dog for that matter) and have fallen madly in love with him. He has changed my life and made me understand so many things I was unaware of before. I am taking a serious interest in animal welfare. I read all the posts on your animal sites. I love all the dogs or other animals featured there.
Never knew a little baby dog could do all that. I am now looking at helping out with local SPCA and other agencies on prevention of cruelty to animals. Please keep up the good work.

By Guddo from Zambia

Answers:
Skippy (Pomeranian)
What a beautiful precious baby Skippy is! I, too, feel that my life has been enriched and enlightened by loving my dogs. They have taught me so much about living well with love and compassion. Blessings to you and Skippy. (09/23/2009)

By 17538
Skippy (Pomeranian)
He looks like he's posing and he's so cute. Zig (09/24/2009)

By Ziggee
Skippy (Pomeranian)
He is spoiled rotten just like my babies, but who could keep from spoiling this baby? (09/24/2009)

By sanmer25
Skippy (Pomeranian)
He looks like a toy American Eskimo, which if I understand, is actually a white Pomeranian. I have a full size eskie, and yes my life is so much better now. I just love my eskie. (09/24/2009)
By Angolamom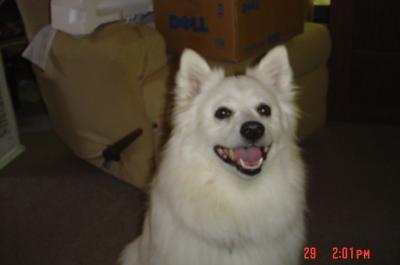 Skippy (Pomeranian)
What a little cutie he is! Thank you for being inspired to help prevent cruelty to these dear animals. We need more people like you!
Grandma Jan and Kato the Wonder Dog (09/25/2009)

By javajano
Skippy (Pomeranian)
Skippy is so cute and what a ham! He is adorable and he looks like he has quite the personality. I have a sweet little timid doggie Honey who loves to be spoiled and it so easy to do. (10/18/2009)
By meoowmom