Staying warm this winter is a challenge. Good thing we love winter soups! Problem was that I was heading out for the entire day and didn't have time to make one from scratch. So, I just raided my cabinets and used my crock pot to make one of the best ham soups I've ever tasted!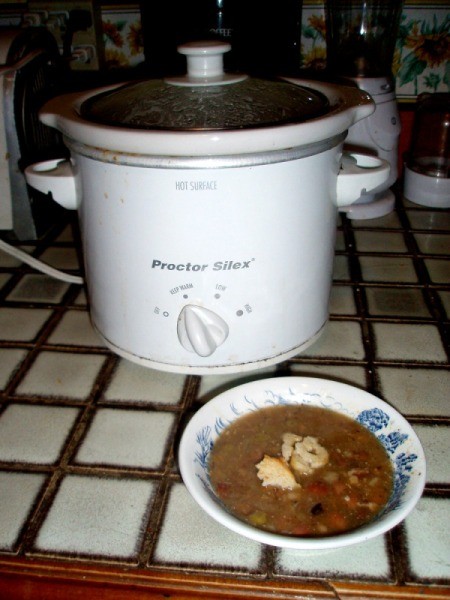 I used a small piece of ham I had frozen from another meal and assorted beans I keep in the house. My secret ingredient that made it great was one packet of dry onion soup mix. Yes, the kind folks also make DIP with!
Total Time: 23 minutes to put together, crock pot it all day
Yield: 4 to 6 servings
Ingredients:
1 piece ham, diced
1 1/4 cup assorted beans*
1 envelope of dry onion soup mix
6 cups water
1 onion, diced
bagel crisps on top (optional)
*I had kidney, lentil, northern and peas, OR you can use the prepackaged 16 bean soup packs sold in most groceries stores.
Steps:
Add them all together and put it on high and leave for the day
Come back to a delish and healthy homemade soup to cure the winter doldrums!
Crushed bagel chips on top or crusty bread and a salad makes it a perfect winter meal. YUM! Stay warm this winter.
This is cheap eating at its best. Really good food for scraping by at the end of the month when your cash gets low.
Ingredients
1 lb. dried great northern beans or any other beans of your choice, including mixed beans
3 garlic cloves, peeled and sliced
1 large sweet onion, chopped coarsely
1/2 tsp. salt
1/2 tsp. black pepper
1 Tbsp. chopped parsley
1/4 tsp. ground cloves
1 lb. smoked ham or ham hocks (I use packaged diced ham)
6 cups water or broth
Directions
Sort beans overnight with enough water to cover them or, you may sort them and place in a saucepan with 2-inches of water to cover.
Bring to a boil; boil for 3 minutes, then cover and remove from heat. Allow to sit for one hour after boiling, but don't lift the lid. Whichever method you use, rinse and drain the beans before placing them in the crock pot.
Put the rinsed beans, garlic, onion, salt, pepper, parsley, cloves, ham or ham hocks into the crock pot along with 6 cups of water or broth. Cover crock, and cook on LOW for about 8 hours, or until beans are tender. Skim any excess fat, if necessary, before serving.
Serves: 4
By Connie from Cotter, AR
September 21, 2011
0

found this helpful
Do you have a good recipe for me to try that involves cooking ham hocks and mixed dry beans?
By Joann A from Carmichael, CA
Answers
September 22, 2011
0

found this helpful
Here is a simple way to do that. Stem your beans. Wash and put in crockpot. Throw a couple hamhocks (smoked are very good), in with the beans.
Cover with low fat chicken stock. Slice up a small to medium onion in with the beans. Cover and cook how ever done you like them.
September 22, 2011
0

found this helpful
My mom and my grandmother used to make hamhocks and beans that was just delish. I remember spreading out the dry pinto beanas on the kitchen table and picking out the dirt and rocks that sometimes make it into the bags. Then the beans were soaked overnight. Drain and add fresh water and the hamhocks and simmer for several hours. I am not sure when to add the salt. I heard if you add it too soon it makes the beans tough.

When I make my own, I a bag of "15 Bean Soup" which, by the way, has 15 different kinds of beans in it! *L* I really like a variety of beans in my soup. I chop up an onion to put on top of the soup and make a pan of cornbread. Man, that's good eats!
Answer

this Question

...