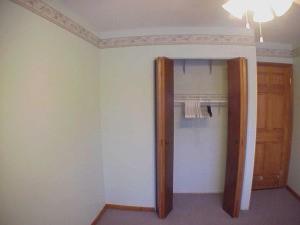 Out of money and couldn't get a job, I decided to rent out my spare bedroom. The walls were riddled with nail holes and it hadn't been painted in 12 years. I looked closely at the color, a light mint green. There was a wall paper border at the top of the wall and then above that another 6 inches of painted wall. Because I'm a senior and can no longer climb a ladder, I took a good look at the ceiling paint. It looked good so I decided not to paint it. But ouch! The dreaded cost of buying a gallon of paint at $50 was painful.
Then I remembered a gallon of Benjamin Moore paint that I had in the garage for the past 10 years. It was Dove White and I only used 1/4 of it. I checked it out and it was still in great shape. I chipped out some paint from the wall, grabbed the old gallon of paint and went to the BJ store. I asked the man there to tint the old paint to match the chips. After a little begging and no guarantee that it would be an exact match, he did it and for free. I purchased paint tape to protect the wall paper border from him for $5.00 and went home.
Once home I painted the walls from under the wall paper border down to the floor baseboard nothing else. It looked great and fooled everyone who saw the room. It was a perfect match! I will never ever again throw out partially used paint or buy more paint if I can do this with it.
The mint green color doesn't show too well in the pics but trust me it looks good. Total cost to paint the room: $5.00 The best part: I didn't have to climb a ladder to paint the ceiling.