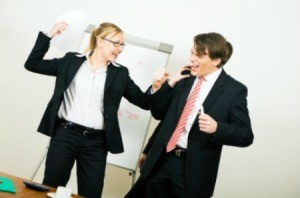 I know this isn't strictly a money problem, but I would certainly appreciate any advice, anyone could give me. I have a fairly good job, it pays well over the award, the work is fine and not difficult, but I seem to have one problem and it is making me unhappy and I am starting to look for another job.
I share an office with a woman, she works for another company with whom we share a building. At first she just talked incessantly, about her life, and shared far too much information. She goes into detail about every conversation she has, just everything. I thought that was, well a bit much, but OK, I would just say hmm or yes occasionally although it did interfere with my work. Anyway a month ago, I think she got angry with me. I'm not sure why, but she stopped talking to me, but now she makes noise incessantly, talks to herself, hums loudly, taps her feet, whistles, answers people when they speak to me, etc., etc. She will also shout swear words occasionally at her computer I suppose.
No one else is that bothered; I suppose because they don't have to share with her. I know that she is not well liked, but politely tolerated, because she works with our sister company. I have tried talking to my bosses, but they can't do anything.
Has anyone got any tips for dealing with this person? I have tried talking to her, but she gets angry and if anything increases her behaviour. It feels like a type of bullying, I can't wear earphones, because I need to answer my phone.
I don't want to find another job, but it is becoming increasing obvious that I will have to. Does anyone have any advice, on how they dealt with a similar situation?
By happy ending
Answers
December 2, 2012
0

found this helpful
If you request a head set, you can answer your phone just fine. Then, you can get the waxy kind of earplugs from any pharmacy and block her out.
I would request a sit down with her and your boss, and lay out in details of what is happening. Mention that others feel this way too, that it's just not your beef.
Office stress adds to your personal stress like you can't believe. When you can't express yourself, it gunnysacks and can and does make you sick.
Let me give you an office scenario from hell.
I used to work for the Oregon State Police as a AFIS tech. That means I read, classified and patterned fingerprints. Among my many duties was to share the graveyard shift with two younger men.
Along comes Christmas of 1999, and one of our supervisors went to the dollar store and bought us all a glass tree full of candy. It was on our desks when we three came to work. One of the gents was of a faith that didn't celebrate the holiday, so he asked me how to handle it. I said "I will take it home to my grandson if you don't mind", and that was the perfect solution.
Come the next day, the super asked someone "Where's Na...'s candy tree"? Someone just said "Sandi took it". Had anyone asked for an explanation, it would have stopped right there. But instead, with all the crime and insanity out there, they launched a theft investigation over a 1.00 present.
Because I needed my job I didn't say anything after all the gossip and rumors died down, and stayed another 2 months...running graveyard by myself. Don't get me wrong, I loved the quiet and did the job just fine by myself. What was harmful was having me walk into a room and having women I had worked with for two years lock up their purses.
Needless to say the stress was too much and I quit in January. The first day I didn't have that cloud over me I felt like someone had yanked a bad tooth out. I never knew what "waiting to exhale" meant, but I sure do now.
This person sounds like she is about 16 mentally and needs attention. I bet that if everyone in the office put their hands up when she starts to babble, she would get the idea. The boss can't fire all of you, so that bad apple would have to be disciplined or removed.
There's an old adage that says "If 27 people tell you you're drunk, you probably should sit down" is true. If all the people in the office needs this situation changed, it's not just you.
I hope this helps.
PBP
December 3, 2012
0

found this helpful
Those who are hardest to love need it the most.
December 3, 2012
0

found this helpful
Have you made a request to involve HR? This might help in a couple of ways, first by making an official request for assistance from HR, and second by the thought HR will schedule a meeting with your space mate to let her know she is interferring with production (that's the way HR usually looks at these things); a bonus might be that you are not the only one who has gone to HR about her. Even though she works for a different company-your HR will contact her HR...if you're lucky.
If you're not lucky, you are probably going to end up trying to find a new job in a hideous economy. I almost lost my job and my pension whilst working in the US at a financial institution. In early 2009 a new space mate arrived and in late June 2009 I ended up on the carpet before my bosses and HR having to remind them that I'm British and saying 'don't get your knickers in a twist' is NOT a racial slur. The idiot co-worker thought I was using the 'N' word. Oh boy. So much for multi-culturalism and diversity in the workplace.
I ended up taking early retirement because of her stupidity-even though I stopped saying knickers she continued to make complaints against me-one of her complaints was that I was giving her the Evil Eye. HR kept calling me in and apologising for having to do so, but I did end up leaving so I would not lose my pension.
Shocking what a space mate can do to a co-worker, it really is! Driving home from work the last day (late Sept 2009), from a job I loved, did well at, and expected to work at for at least five more years, I couldn't figure out why I wasn't sobbing and feeling scared-I needed my job! My pension payments aren't enough to cover living expenses in the US, sadly.
It took me a few days to realise I wasn't freaking out because the relief of not having to deal with that pinhead was so great. I found another, better paid job in Dec 09 which I kept until my return to the UK in late Aug 2010. I don't miss the heartache one bit of working with difficult people!
People like your (and my) space mate are business killers, they really are! Try to beat her to HR if you really love your job, or feel you cannot afford to find a different, more congenial place of employment. Good luck, please update us on how this works out for you.
December 3, 2012
0

found this helpful
I would first document everything. Then I would record the behavior with a small recorder. Then I would approach her again and try and politely discuss this with her.
Continue documenting everything, next I would get to my bosses again, then her bosses. Express to them that you've tried discussing this with her on however many occaisions, you've also brought it to their attention on however many occaisions.
Let them know that the behavior is continuing or escalating and that you feel she is using this as a form of bullying. Discuss how they can resolve the problem, move her desk? Something. I find if you approach people humbly approaching them as if you don't know what to do and you need their help or advice they are often more willing to try and help you find answers.
If this doesn't work, I would call the local police department and ask what can be done legally. Sometimes just lodging a complaint can go a long way.
I wouldn't quit my job. A good paying job that you like is not easy to find in this day in age with unemployment being so high and jobs hard to find. It is your employers responsibility to make sure you are in a safe somewhat friendly environment. Certainly not being bullied.
December 3, 2012
0

found this helpful
You quitting your good paying job because of an office worker not even employed by your company is insane! Her behaviors fall under bullying and harassment [making your work environment intolerable]. She knows that she has gotten to you, and her actions will continue.
Since you have discussed this issue with your supervisor in the past, he/she knows the situation exists. Bring it up again - ask to have your workstation re-arranged, if possible. If need be, schedule a meeting with Human Resources, your boss, and a union representative, if your place of employment is lucky enough to have one.
A commenter posted documenting her annoying and obviously deliberate actions, using a tape recorder - but keep the recorder in full office view. Covert taping can backfire and cause far bigger problems. Whatever your plans, make sure you have tons of ammo - don't go into any meeting unprepared - reporting her whistling, singing, cursing [which, by the way, can make her liable for a reprimand], etc. isn't going to get you anywhere, but make you look foolish and petty.
The more documentation the better; it will give you the upper hand, especially if the co-worker is called into the meeting. Keep a journal with date, times, and incidents. Think ahead!
One more point - using earphones and listening to music in an open office is a big no-no. It shows lack of interest in your work, and detracts/distracts you from issues that might arise. The bottom line is this - her behavior is interfering with your work! Companies do not tolerate productivity being compromised!
December 3, 2012
0

found this helpful
I forgot to wish you the very best with this problem. Working in a close office space is stressful enough without the junk that goes with it. Do not quit your job ... fight it out. Keep your head up! No physical or verbal displays of anger or annoyance. Document!
December 3, 2012
0

found this helpful
You cannot do anything to change this woman's behavior, but you have to make your supervisor understand how harmful this situation is to you. Explain (calmly) how this makes you feel and that if you cannot move away from her, you will regretfully have to change your job for your own peace of mind.
December 3, 2012
0

found this helpful
I empathize with you, but cannot see an in-house solution. You are the only one she's annoying and management doesn't care. You'll have to tolerate it while looking for another job. Or, maybe if it really affects your job, management will finally have to pay attention. It's poor management that tolerates such behavior. I know what it's like to have an awful job. Let us know what happens.
Read More

Answers