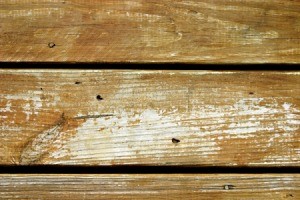 I've noticed something is burrowing a small holes on a railing of our backyard deck. I've not seen or heard anything unusual, but there are new holes (about the size of a dime) and a small mound of fresh wood shavings located directly beneath it. I know it's not termites, but is there another type of insect, bird or rodent doing this? I'd appreciate your thoughts.
Maggie from VA
Answers

July 21, 2007
0

found this helpful
Best Answer
I live in Virginia also and it sounds like carpenter bees. They are making holes to live in and are large black and yellow bees that look a lot like bumble bees, but the stripes are different. Usually they just fly up to us and are not aggressive and just hover there for a second or so and then fly on.
By Ingrid (Guest Post)
July 25, 2007
0

found this helpful
Best Answer
Most likely you have carpenter bees. They are harmless (only the female has a stinger and is usually too busy to bother with humans), and they are important pollinators.
If you want to get rid of them, go for a non-insecticidal approach--plug the holes with caulk or another hardening substance. Some people regard them as "pets"!
By BJ (Guest Post)
July 21, 2007
0

found this helpful
Surprisingly look for bumble bees! You can't miss them if they are the culprit - very loud buzz & larger than normal size. They bore into the wood & "nest".This happened with my arbor.
I would like to know how to prevent this from happening!
By Kat (Guest Post)
July 21, 2007
0

found this helpful
Do you have any type of bees in your area?
We have bumble bees down south so bad and they
will make holes in rafters, wood siding on the house,
anything they know they can drill thru and make a nest inside for the baby bees...

July 25, 2007
0

found this helpful
Trust me, It's bumble bees, they invaded my deck
They bore into the wood and leave holes and a pile
of sawdust.and then they leave some drippy yellow
yucky stuff off. it's not nice. My friend said if you paint or stain the wood they would stay away. But I
don't know that to be a fact.
By Paula Jo Carr (Guest Post)
July 25, 2007
0

found this helpful
I have them around our home too (in western NC). Our handyman told me that "they" were "Carpenter Bees" & harmless.
I personally wonder what God made them for although I have heard they are very good pollinators.
I leave mine alone allthough they have bored holes in alot of places on our outdoor buildings and both decks.
I leave them alone because they are some of Gods animals (that is what I tell the children anyway).
By Rasta (Guest Post)
July 25, 2007
0

found this helpful
They are carpenter bees according to the exterminator. I've had them and they will do some serious damage. We painted our porch with white paint and didn't see them this year. They also ruined a shed we had and had to tear it down and distroy the lumber and maybe this helped as well. When we had them I would put spray foam in the holes and attack them with the fly swatter. Glad I had a summer off without the pesty things. They are hard to get rid of.

Maryeileen
Bronze Request Medal for All Time! 59 Requests
July 27, 2007
0

found this helpful
It could also be carpenter ants.

August 2, 2007
0

found this helpful
Yep, it is a carpenter bee - NOT a bumble bee. There is a difference. Do an internet search on how to treat for them. If you can catch them early, you should be able to get rid of them. Generally, they attack new, unpainted wood. If you don't get them under control, they will create massive damage by burrowing up into the wood to lay eggs.
Plugging the holes will not work, unless you first lay in poison inside the hole because they will simply lay eggs and then they and the babies will burrow out another way.

March 6, 2009
0

found this helpful
We had this to happen. We sprayed insect spray in the holes. It helped some, good luck.
Answer

this Question