Spicy Orange Roasted Chicken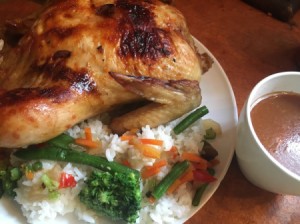 I was craving orange chicken but didn't want to deal with goopy batters or frying, so I threw together a whole chicken with oranges and some spice. It was SO good. I urge you to try this!
I leave the peels on the oranges in this recipe because I'm a fan of umami* flavours. If you want to knock out the bitterness, simply remove the orange peels in this recipe. If you like your orange chicken sweet like at Chinese restaurants, add one tablespoon of brown sugar to the saucepan when making the glaze at the end.
*Umami is the marriage of sweetness, sourness, bitterness, and saltiness in food.
Prep Time: 20 minutes
Cook Time: 50 minutes
Total Time: 70 minutes
Yield: 4 servings
Ingredients:
1 whole chicken
3 oranges
salt
3 cloves garlic, sliced
1 Tbsp chili sauce
3 Tbsp soy sauce
2 Tbsp corn starch
1/4 cup cold water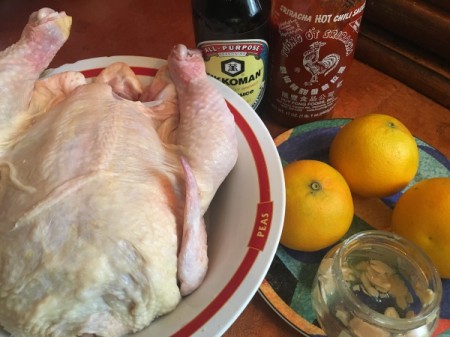 Steps:
Preheat oven to 375 F. Slice the oranges and place on a large baking dish. Salt the whole chicken liberally and place on top of the orange slices, breast side down.
Bake for 20 minutes then remove from oven.
Wearing oven mitts, carefully tip the juices that have formed on the bottom of the dish into a heat safe bowl or cup.
Flip the chicken over so it's breast side up. Slather on the chili sauce, sliced garlic, and soy sauce and brush it around so it's nicely coated. Return to hot oven for 20 minutes.
Remove chicken from the oven again.
More juices will have come together from the chicken and oranges. Tip over into the bowl or cup once again. Return chicken to the oven until internal temperature reaches 165F, approximately 10 more minutes.
Pour all the chicken and orange juices into a saucepan on high heat to bring to a boil.
Mix the cornstarch and cold water in a small cup until smooth.
Stir cornstarch mixture into saucepan and stir constantly. Bring sauce to a boil and allow to thicken, about 1 minute.
Discard the orange slices and place whole chicken on a platter. Pour glaze in a bowl or cup to serve with the chicken, or drizzle straight onto the chicken and serve.
Cut chicken into quarters. Goes great with rice and vegetables.
Add your voice! Click below to comment. ThriftyFun is powered by your wisdom!
Related Content