Orange Chicken Recipes
Recipes
Share on ThriftyFunCheck out these recipes. If you have made this recipe please submit a photo and let us know how it worked. Or, add your own recipe variation.
October 19, 2009
8

found this helpful
A nice combination of sweet citrus and pungent ginger.
Ingredients:
1/2 cup thawed orange juice concentrate
1/4 cup butter, melted
2 tsp. soy sauce
1 tsp. salt
1 tsp. ground ginger, or more to taste
Pinch of pepper
2 lbs chicken thighs, skin removed
Directions:
In a small bowl, combine all ingredients except for the chicken. Place chicken in a single layer in an 11x7 inch baking dish. Spoon one half of the marinade over the top of the chicken. Cover and refrigerate overnight.
Remove from the refrigerator and sit at room temperature for about a half hour.
Bake, uncovered, at 350 degrees F for 1 hour, but baste with remaining marinade after a half hour.
By Ann from Richland, WA
February 5, 2012
6

found this helpful
This is really good, my sons really liked it.
Ingredients:
2 lb. boneless skinless chicken, chopped into bite sized pieces
1 egg
1 1/2 tsp. salt
white pepper
oil for frying
1/2 cup cornstarch, plus
1 Tbsp. cornstarch
1/4 cup flour
1 Tbsp. ginger root, minced
1 tsp. garlic, minced
1/2 tsp. crushed hot red chili peppers
1/4 cup green onions, chopped
1 Tbsp. rice wine
1/4 cup water
1/2 tsp. sesame oil
Orange Sauce for Stir Fry
1 1/2 Tbsp. soy sauce
1 1/2 Tbsp. water
5 Tbsp. sugar
5 Tbsp. white vinegar
1 orange, zest of
Directions:
Place chicken pieces in large bowl. Stir in egg, salt, pepper and 1 tablespoon oil and mix well. Stir cornstarch and flour together. Mix flour mixture and egg mixture. Add chicken pieces, stirring to coat.
Heat oil for deep-frying in wok or deep-fryer to 375 degrees F. Add chicken, small batches at a time, and fry 3 to 4 minutes or until golden crisp. Do not overcook chicken! Remove chicken from oil with slotted spoon and drain on paper towels; set aside.
Clean wok and heat 15 seconds over high heat. Add 1 tablespoon oil. Add ginger and garlic and stir-fry until fragrant; about 10 seconds. Add and stir-fry crushed chiles and green onions. Add rice wine and stir 3 seconds. Add Orange Sauce and bring to boil.
Add cooked chicken, stirring until well mixed. Stir water into remaining 1 tablespoon cornstarch until smooth and add to chicken. Heat until sauce is thickened. Stir in sesame oil and orange zest if desired. Serve over jasmine rice.
By Marcia S. from Spokane Valley, WA
I made this for dinner the other night and it was really good. Most of the ingredients are things you probably have on hand. You can use a small onion instead of the shallot, if desired. I liked the contrast between the orange juice and balsamic vinegar in the sauce. I think the sauce would also be good with pork.

Total Time: 20 minutes
Yield: 4
Source: Dinner on a Dime Cookbook
Ingredients:
4 boneless skinless chicken breasts (optional: pound to 1/2 inch thickness)
1/4 cup all purpose flour
1 Tbsp vegetable oil
2 Tbsp butter
1 shallot, finely chopped
1/2 cup chicken broth
1/3 cup orange juice
1 Tbsp balsamic vinegar
1 tsp sugar
Steps:
Warm oil and 1 Tbsp. butter in a large skillet over medium-high heat until butter foams.
Dredge chicken in flour, shaking off excess, and place in pan. Cook until cooked through and golden, turning once (about 8 minutes, longer if you do not pound the chicken). Transfer to a plate and cover with foil.
Add shallot to skillet and sauté until softened, about 1 minute. Add broth, orange juice, vinegar, and sugar; cook, stirring until slightly reduced, 1-2 minutes. Remove skillet from heat, add remaining butter, and stir until thickened. Season with salt if desired.
Slice chicken, pour sauce over top, and serve. The chicken went well with steamed broccoli and oven roasted potatoes.
A delicious, tasty meal. Very easy and fast. I made brown rice in the pot earlier in the day to go with it. I halved the meat, but made the same amount of sauce.
Next time I will use the amount of meat specified in the recipe to get more leftovers.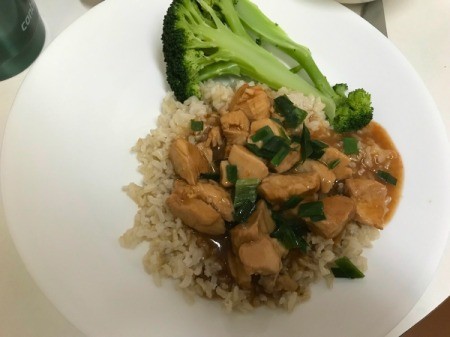 Read More...
I was craving orange chicken but didn't want to deal with goopy batters or frying, so I threw together a whole chicken with oranges and some spice. It was SO good. I urge you to try this!

Read More...
This tangy crockpot chicken recipe is good served over rice with broccoli.

Read More...
In frying pan, mix the olive oil and add butter together. Dredge the chicken in the breading and add it to the pan to brown.
Slice the orange in 1/2 and squeeze the juice over the chicken. Let this brown and turn the chicken.
Read More...
April 15, 2005
0

found this helpful
Arrange chicken breasts in 9x13 inch baking dish and pour dressing over chicken. Cover and refrigerate overnight. Remove breasts from dressing.
Read More...
Related Content