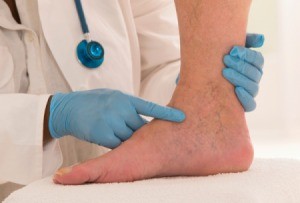 Would anyone know what type of saline they use for spider veins?
By darlene from Carriere, MS

Answers
The solution is called "sclerosing solution" and the procedure is called "sclerotherapy".
For some, the procedure can be risky. Dermatologist Michael McCray, associate professor of clinical dermatology at the University of Southern California said "A person with hypertension, for instance, would be at risk, because the sclerosing solution contains a high degree of sodium, which raises blood pressure." Diabetics and those at risk for heart disease are not good candidates for sclerotherapy.
findarticles.com/.../

May 20, 2009
0

found this helpful
Years ago they used a chemical called, "Sodium Maruate (sp?)", but I don't know if they still do. It's supposed to be some form of "soap", even though it has a salt in it?
I'm not a physician nor a chemist, but that's the name, perhaps spelled slightly differently? Good luck and God bless you. : )

May 24, 2009
0

found this helpful
I have been taking cinnamon 500mg capsules and I can tell a big difference in the spider veins! They have diminished at least 50% in the past couple months I have been taking the cinnamon!
Good luck~ I know they are aggravating
Answer

this Question
How to remove spider veins from your face?

Connie from Phoenix, AZ

Answers

October 17, 2007
0

found this helpful
A dermatologist can remove them or you could cover them with a cover stick.

Cyinda
Bronze Post Medal for All Time! 213 Posts
October 17, 2007
0

found this helpful
With lasers: Call several dermatologist's offices & ask the receptionist I they can do this & how much it cost. Sometimes an initial consultation is free. You can also leave a message & have the doctor call you after hours for a short explanation of his services in this area.
Spider Veins on the face are usually hereditary, but to help avoid getting them, wear sunscreen & avoid drinking alcohol & taking aspirin or Ibuprofen as these thin the blood.
Here's a great site to answer your questions:
Spider Vein Treatment (Sclerotherapy)
www.ienhance.com/.../description.asp?ProcID=38&bodyid...
Answer

this Question