Spinach and Cheese Appetizers
I have spent this weekend trying out some new recipes for my upcoming holiday get togethers. This one I tweaked here and there to my own liking and I have to say, it came out pretty tasty!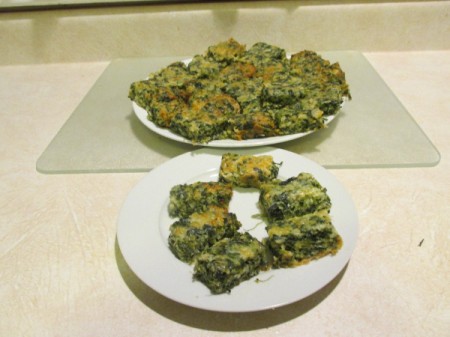 Ingredients:
1/2 cup butter, melted
4 eggs
1/2 cup milk
1/2 cup half & half
1 cup all purpose flour
1 tsp baking powder
1/2 tsp dried basil
1/4 tsp garlic powder
1/4 tsp black pepper
16 oz shredded cheese (I used a 6 blend Italian cheese)
4 cups fresh or frozen spinach*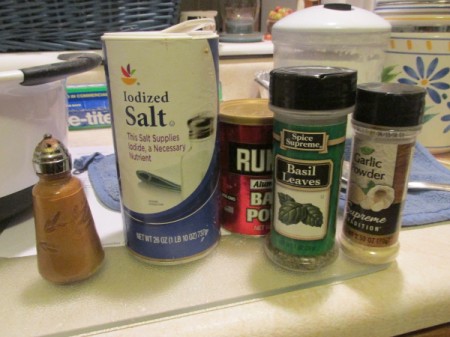 * I only had frozen spinach in the house. If using frozen spinach, thaw completely in a strainer and then squeeze all the water out.
Steps:
Preheat oven to 350 degrees F. Using a 13 x 9 inch baking pan, put the whole stick of butter in the pan and pop it in the oven for 5 minutes to melt. Then take it out.
In a mixing bowl, beat eggs, beat in milk, and all dry ingredients including spices. Beat it well.
Then stir in the cheese and spinach. Mix very well.
Pour mixture into the buttered pan, spread evenly over the pan.
Cook for 25 minutes and it will be light golden brown.
Remove, let set for a few minutes and cut. You can cut into 24 large serving pieces or 48 appetizer pieces. I suggest the smaller ones. I also suggest putting these on a paper towel for 1 minute to get rid of some of the butter.
I found these to be very tasty. I let these cool, layered them with plastic wrap, And then double wrapped them with freezer wrap and froze them. I now have appetizers for the holidays.
To test these, I froze 1 piece and will try it in a week to see how they took to freezing them. I'm sure they will be fine. I make and freeze quiche often.
Add your voice! Click below to comment. ThriftyFun is powered by your wisdom!
November 17, 2016
0

found this helpful
For the frozen appetizers, how long would you bake them, and at what temperature?
November 19, 2016
0

found this helpful
These look absolutely DELICIOUS & I can't WAIT to try them! All of the sudden I'm very hungry! I have saved this to my recipe folder - thanks so much!! (I see, like the rest of us, you are planning for the holidays- I have entered a "Pink Cloud Pie" that is fast, inexpensive, and delicious- it's ALSO frozen!
It may be posted in a few days, you might be interested) For now, I'm going to check my freezer for Spinach!! Thanks again!!
November 20, 2016
0

found this helpful
Thank you for your comment! I hope you enjoy them as much as I did!!
"Happy Thanksgiving"
November 22, 2016
0

found this helpful
Jackie,
I tasted canned spinach as a child. As a result, I never ate spinach. Later in life, I discovered raw spinach was much better than lettuce on a sandwich. I still wanted a way to cook spinach and enjoy it. To date I haven't found one.
I do believe your recipe, minus the basil, is what I've been looking for. I really like cheese, too, so I'm sure I will like your appetizers.
Gonna give them a try. Thanks for posting!
Doug
December 9, 2016
0

found this helpful
Am definitely going to try this one. I'm always looking for vegetarian recipes and this might go well as part of a main course by cutting it into bigger pieces
Add your voice! Click below to comment. ThriftyFun is powered by your wisdom!
Related Content
Categories
Guides
More
Categories