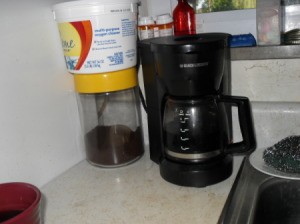 I emptied a container of OXY Clean today. I have been dealing with my coffee filters in plastic bags since my cute tin rusted out about ten years ago. Since I don't use the margarine boxes and cottage cheese containers are too tall and narrow I had resigned myself to a life of tacky plastic bags on my counter.
I looked at the plastic container and my old wrinkled up brain started working. I suppose if you are creative (I'm not) you could decorate it in some way. Here it is. It takes up less space and will sit on top of my canister without jumping off.
By Marty Dick from Knoxville, TN
Read More

Comments
Does anyone have any advice on how to keep coffee filters in their original shape; space efficient? My filters have already lost their shape within a week, in the bag, making coffee grounds spill over. Any great ideas?
Thank you.
By Daisy from FL
Answers
March 30, 2010
1

found this helpful
I use a small margarine container to keep my coffee filters in. They are round and not too big to keep in the cupboard.
March 31, 2010
0

found this helpful
I have used both cone and round coffee filters and the round one always did that to me, too...so periodically I took a bunch of the to my sewing room..filled them with the amount of coffee I used each day and sewed across the top with a single seam. Then I had coffee bags which never spilled out coffee grounds into the coffee.
Now I have a cone filter coffee maker and I keep my filters in a napkin holder that matches my kitchen decor.
March 31, 2010
1

found this helpful
I took a small round container like the ones Pimento Cheese or Chicken Salad come in from the grocery. I cut the buttom of it out and cut until it fit my coffee basket. Now when I put a filter in I put the round plastic bowl with no bottom then the coffee. The filter stays up and no more coffee grounds in my mouth.
March 31, 2010
0

found this helpful
I just put mine in an old empty coffee can. I usually buy a large package and it's big enough to hold them all and doesn't look out of place by my coffee maker.
March 31, 2010
0

found this helpful
I have been using a coffee can (metal or plastic), and they never lose their shape.
March 31, 2010
0

found this helpful
I have a tupperware container for coffee and one for the filters that also came with a measuring spoon that has a rubber tip on the end of the spoon handle. The spoon fits in the top of the container for storage. I've had this set for many, many years.
A plastic container that fits your coffee filters, a measuring spoon with a short pencil with a good eraser on the end taped to the handle of the measuring spoon would work just as well for easy accessability of your coffee filters.
Keep the spoon in the container with the filters so it will be there to measure your coffee and get the filter out of the container.
March 31, 2010
1

found this helpful
Okay, I absolutely love the sewing the filter idea. The brand of coffee I use changed from a tin coffee can to a short bulky blue plastic one. I thought of putting them into an old can too. It is too wide, not to mention too large to have 2 at a time.
I also like the small dishes but think that will be too our of place. I only two cabinets, one for dishes and one for my coffee & spices and such. My counters are also too small for a canister set-talk about tiny!
I appreciate all of the feedback and help :-) I drink a lot of coffee so I'll just sew them weekly with every new can and put them back in, brilliant idea, like tea bags. Thank you all!
May 7, 2015
0

found this helpful
I use a Ziplock 3 cup plastic storage container. It will keep 50 round filters at a time in perfect shape.
Read More

Answers