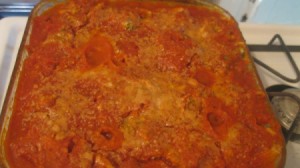 I've been making this recipe for years. It uses cream cheese instead of the usual ricotta. It is delicious. It's my go-to recipe when I go to gatherings or to take to someone who is ill or just had a baby. ( I just leave the instructions on how to bake it and pack along some garlic bread and salad). The original recipe uses 3 pounds of meat and makes a lot of shells. I cut it down to be enough for our family. But, you can double or triple it for large get-togethers.
Total Time: 45 minutes to make the shells, 1 hour to bake.
Yield: About 17 or 18 shells
Source: Food Network recipe "Northern Italian Pasta Shell Stuffing"
Link: http://www.foodnetwork.com/recipes/paula-deen/northern-italian-pasta-shell-stuffing-recipe.html
Ingredients:
1 pkg (10oz) frozen chopped spinach, thawed
1 lb ground beef or ground turkey
1 pkg (8 oz) cream cheese, softened
1/2 large onion, chopped
Parmesan (about 1/2 cup)
salt and pepper
1 egg
1/2 box (12 oz) jumbo shells
pasta sauce (I used a 24 oz can)
Steps:
Cook your pasta shells in salted water until al dente. I usually cook them for a minute less than the directions. You don't want them to get soggy while baking. Drain pasta. Let shells sit on a pan to cool down a little bit before handling.
Squeeze the water out of the thawed spinach.
Cook beef and onions until browned and cooked. Drain the grease from the pan.
Add to a big bowl, along with spinach and cream cheese. Let it sit for a few minutes. The heat from the meat helps to melt the cream cheese a bit and makes it easier to stir. Stir mixture.
Add Parmesan cheese, salt and pepper (according to taste). Taste your mixture now. If it needs more salt, add it. *Do this before you add your egg.
Once cooled down a bit, add your egg and stir until mixed.
Spray a 9 x 9 inch pan with cooking spray. Pour enough pasta sauce in the bottom of your pan to coat the pan.
Stuff shells with meat mixture. I add about 3 tablespoons or so.
Put your shells in the pan. Once finished, top shells with remaining sauce. I like it all covered and smothered in sauce.
Top with Parmesan cheese. Cover with aluminum foil. Place dish on a cookie sheet or some other larger pan to catch any drips.
Bake at 350 degrees F for 1 hour.
Let cool for 10 minutes. Enjoy!
Add your voice! Click below to comment. ThriftyFun is powered by your wisdom!
October 5, 2015
0

found this helpful
I love pasta and this looks DELICIOUS!!!!!!
October 7, 2015
0

found this helpful
New to me!~ Gotta try it! Thanks!
October 23, 2015
0

found this helpful
I tried it...with only a little sausage that was already in my homemade sauce and it is a real winner! I am going to make a meatless version for my vegetarian kids during the holidays!
Note: Cream cheese IS the cheese with the highest fat content, so save this for special occasions! ;)
Add your voice! Click below to comment. ThriftyFun is powered by your wisdom!