July 8, 2018
0

found this helpful
Impeccable timing, Suz! My friends and I went to dinner together and I was having a tough time deciding between stuffed shells and lasagna. I ended up going for the lasagna, which ended up being lackluster. My friends made a joke that they could hear the stuffed shells gloating at me from afar! This is actually something that I have NEVER made myself, and I cook a lot. So this is an extremely welcome recipe-- plus you are a trustworthy cook :) Can't wait to try this!

July 8, 2018
0

found this helpful
Attosa,
Wow, that sure is impeccable timing, and incredible too.
And yes, I too am surprised you've not made these (yet). :) You're a fantastic cook, and your recipes show that, and they're so varied in flavors, and I always look forward to seeing them.
Whomever shares the fantastic meals you've cooked, I know they're lovin life! :)
These stuffed shells, they look like there's so many steps, but they are super easy, and they freeze so easily too, for the easy night dinner.
I sure do hope you're able to try them.

July 10, 2018
0

found this helpful
Thank you, you're so sweet! I've put all these ingredients of yours on my list. I will be making them with my best friend. I'll let you know how we make out!

August 4, 2018
0

found this helpful
we did it! we did it!!!!!!!!!!!!!!!!!!!!!!!!!!!!!!!! OH MY GOSH it was so good! thank you so much for sharing this. i honestly never would have made it without your post!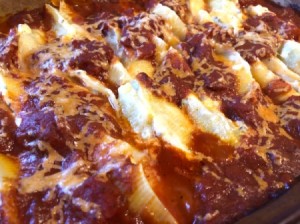 August 4, 2018
0

found this helpful
OH OH OH OH OH we gave some to my bestie's mum and her eyes rolled back into her head. She said, "Heavenly!"

August 5, 2018
0

found this helpful
WOW, you sure did do it! haha :)
MMMmmm they look out of this world scrumptious!
They look absolutely delicious and that's sure a beautiful picture of your shells too that you took. I can just taste them looking at that, haha
You did a perfect job. I really am so glad you made them, and now have them forever to make anytime you want. I just love we can share our cooking like this. And thank you Attosa, you've given me so many new delicious yummies, and I sure am glad about that too. :)

August 5, 2018
0

found this helpful
Awww, that's SO wonderful, I'm so glad, that makes me very happy also.
It is really special that we all can share our dinner table like this:)
So so glad you enjoyed :) Thank you! :)

August 6, 2018
0

found this helpful
The only thing I did wrong was leave all the leftovers at my friends house! ;) HOWEVER, you taught me a new skill in this stuffing pasta type thing. Once it was done, it stayed forever in my head, this technique, so I thank you!