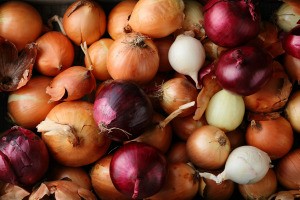 I've only been recently diagnosed with Ulcerative Colitis (in an out of the hospital a lot to the point we are trying Remicade); but my biggest problem with my diet is I can't have onions or tomato sauces. Does anyone know of some kind of onion substitute because it's in almost every recipe!?
Erin from Louisiana
Answers

November 15, 2007
1

found this helpful
Best Answer
Just don't put it in a recipe. Seriously, I don't like onions, but just because a recipe calls for it, doesn't mean you have to eat it.
www.foodsubs.com is a great place to look for substitutions for things though. Check out onions there, they have a lot of different substitutions. For instance, here are substitution for a dry onion:
"white bulbs of leeks OR shallots OR green onions (Cook these for no more than a minute.) OR chopped daikon (salt and rinse first if serving raw) OR garlic OR asafoetida powder (This Indian spice has a strong, pungent flavor and is used as an onion substitute by people who can't eat them for religious reasons.) OR fresh herbs"
Hope this helps.

November 15, 2007
0

found this helpful
Best Answer
I use 3-5 cloves of garlic in place of a medium onion.

November 15, 2007
0

found this helpful
Best Answer
You might try a spice called asafetida. It is usually available at health food stores or Indian Specialty shops.
By TINA (Guest Post)
January 20, 2009
0

found this helpful
Best Answer
APPLES APPLES APPLES
When you core, slice and saute an apple, it has the same taste and texture as a sauteed onion.

May 23, 2017
0

found this helpful
Best Answer
As I am an Indian, it is almost impossible to make any curry without onion or tomato's. I have a brother who is allergic to both !! Instead of onions, use spring onions, as they are not from the onion family, but from the garlic family !!
And instead of tomato, use vinegar ( white ) and apinch of sugar, and you will get the flavor of tomato !! I have used this for years and it really works !!!
Read More

Answers