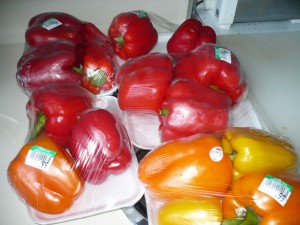 Living a frugal lifestyle is not easy. It takes a lot of dedication to make it work. The best thing I did to promote my frugal lifestyle was learn to cook. If you learn to cook, you can have delicious meals with leftovers for the next day for the same cost or lower than buying one hamburger. I learned to cook working in restaurants, I got paid to learn to cook.
You can buy cheap vegetables all day long, like you see in the picture ($.99 for four peppers) but if you don't bring them home and clean them right away, cook them or freeze them, you are wasting your money. There is no waste in my home. I use everything, even saving the seeds to plant new pepper plants on my balcony. I usually shop on Mondays and Thursdays because that is the day that my grocery stores change over their produce.
You can freeze anything. I freeze potatoes after I've cook them. I blanche mushrooms for two minutes in the microwave and then put them in Ziploc bags and freeze them after they've cooled down.
The fall of the year is my favorite because of all the colors. I love to walk through the leaves and take long drives in the country to pick up roadside stand vegetables. Then it's time to put the plastic on the windows to keep the drafts away. Putting plastic on the windows also keeps the heat in, when I'm using my oven to cozy up my apartment.
A frugal lifestyle is exciting. I have good food and a comfortable home that is decorated with found objects. One man's trash is another man's treasure. I love to go treasure hunting and dumpster diving. You never know what you will find:)
Thanks for reading and have a wonderful day.