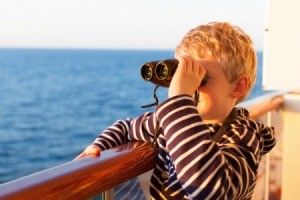 I'm taking my 10 and 12 year old children on a 3 or 5 day cruise, other than going to the doc to get a perscription for motion sickness. Any tips/suggestions to make this an awesome trip? I have never traveled before so any advice is much appreciated.
Thanks in advance!
Ma
Answers

Linda L.
Bronze Tip Medal for All Time! 64 Tips
April 5, 2005
0

found this helpful
There are tons of activites for kids on cruises. Most cruise ships have a "kids club" organized and supervised kids activities. Let your kids spend some time there, and some time with you on shore excursions, meals, etc. Soft drinks are not covered in your room and board and at least at $2 each can add up fast. Some ships have an "all you can drink" card available for kids for a set price-so if your kids drink pop this may be the way to go. If you are going to a warem-=weather destination make sure they stay hydrated-and wherever you go-pack sunscreen.
Motion sickness is not very likely since big cruise ships have stabilizers that minimize rolling of the ship. Unless you hit a storm, you should be fine. Usually they will give you OTC motion sickness pills free at the pursers desk.
Souvenirs from the ships stores will be at their cheapest prices the last night, so wait to buy. You may want to set a dollar limit on spending money or kids can nickel and dime you to death in the arcades, cokes, candy bars..

Holly
Silver Post Medal for All Time! 364 Posts
April 6, 2005
0

found this helpful
Motion sickness can be helped with ginger pills (plain ol' ginger root from the drug store in the vitamin aisle) - but I don't know the quantity.
Next - my MIL told me that if the weather is bad, the ship won't dock possibly for hours, so the passengers that want to leave are ousted out of their rooms and limited to the deck and the ones that want to board are stuck at the pier, waiting.
I suggest you have a plan "B" in case this unfortunate situation occurs.

April 6, 2005
0

found this helpful
I would suggest you look into what kind of electrical adapter you might need for plugging in things like hair dryers, curlers, etc. I didn't have one and had to dry my hair under the hand dryer in the women's bathroom. :o( Outlets on many of the big cruise liners are not standard.
By Colleen (Guest Post)
April 24, 2005
0

found this helpful
When sitting in a restaurant face the front/back of the boat and not the sides. My husband can't even watch the teacup ride at WDW did this and loved the trip. Also the medical office will have pills for you to take if you really need more than you brought.
Dramamine will make you really drowsy, but Bonine works the same without so much drowsiness. Some cruises have a cup you can buy for a certain fee (disney was $25 for 7 days) and get free refills on soda. It was worth the money. Enjoy!!!
Answer

this Question