This is a delicious, quick, and easy casserole to make for dinner or anytime. I love spicy food and this dish can be prepared mild or spicy. Add a green salad and your meal is complete.
Ingredients:
2 packages Jiffy cornbread mix (prepared according to package instructions - you will need milk and eggs)
1 pound ground beef
1/2 of a large onion, finely chopped
1 can tomato soup
1 can beans, your choice (we used S&W chipotle pinto beans)
1/4 tsp. powdered garlic, or to taste
1 Tbsp. chili powder, for a spicier flavor increase to 1 1/2 - 2 Tbsp.
1/2 cup corn, frozen or canned
1/2 cup shredded, Mexican cheese or your choice
1/2 tsp. Tony Chachere's Original Creole seasoning
Directions:
Preheat oven to 400 degrees F.
Prepare the 2 boxes of Jiffy cornbread mix according to package directions. Add spices to cornbread mix, optional. We used 1/2 to 1 tsp. Tony's and 1/2 cup shredded Mexican cheese. Set aside.
Brown hamburger. Add onions and cook until translucent.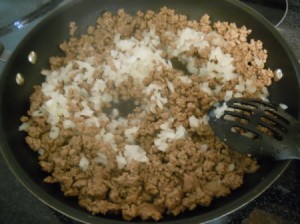 Add chili and garlic powder.
Add beans including the liquid, tomato soup, and corn. Stir and heat through.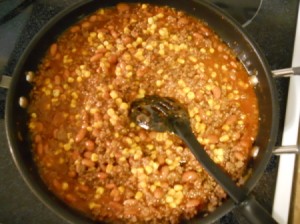 Pour meat mixture into a 9 x 13 inch Pyrex pan.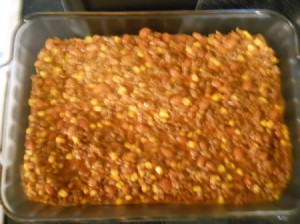 Pour cornbread batter evenly over meat mixture.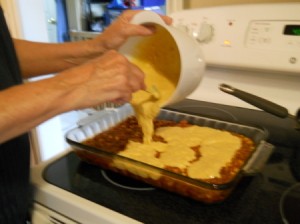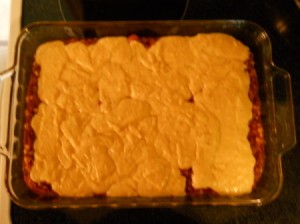 Bake 15 to 20 minutes or until cornbread topping is golden brown.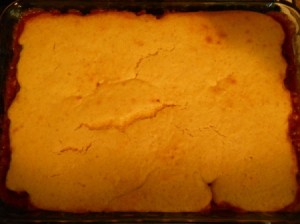 Here is a photo of the grandson, sometimes scribe and part-time camera man.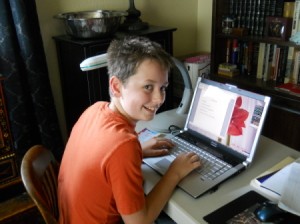 Prep Time:
15 -20 Minutes
Cooking Time:
15 - 20 Minutes
By R Barbara from Bremerton, WA