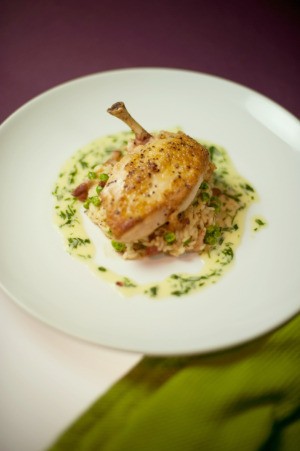 Ingredients
2 Tbsp. butter or margarine
1 Tbsp. vegetable oil
4 skinless, boneless chicken breast halves
3/4 cup dry white wine or vermouth
2 tsp. Dijon mustard
1 Tbsp. chopped fresh tarragon or 1 teaspoon dried tarragon
1/2 tsp. salt
freshly ground pepper to taste
3/4 cup heavy cream
Directions
In a large skillet, melt butter in oil over medium high heat. Add chicken breast and cook; turning once, until lightly browned, about 4 minutes a side. Remove and set aside.
Add wine to the pan. Bring to a boil, scraping up brown bits from bottom of pan with a wooded spoon. Stir in mustard, tarragon, salt and pepper to taste. Whisk in cream and boil until mixture thickens slightly about 3 minutes.
Return chicken to skillet; turn in sauce to coat, and simmer for 5-10 minutes, until chicken is tender. Remove chicken to a serving dish, and spoon sauce over all the chicken.
Source: A friend, Maureen
By Raymonde from North Bay, Ontario