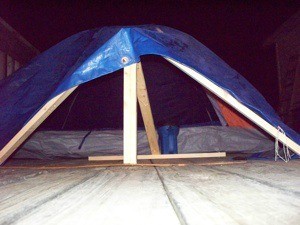 I have always worried about my dogs being left outside with no shelter from the cold or rain if I have to depend on someone else to let them in and out if I have to be away (in the hospital for example). So I came up with this idea.
I have a "pup" tent that I had gotten at Wal-Mart for $24 several years ago and is no longer being used. We also have several tarps not being used. I set the tent up, but then realized that since I'd have to leave the door unzipped on it so the dogs could get in and out, the rain could also get in. So out comes a tarp!
I tied the tarp over the top of the tent. Then I built a brace at the front of the tarp about 3 feet from the front of the tent. I attached the tarp to the brace, and also attached it to the deck on all 3 of the other sides.
The tarp keeps the tent from blowing away in strong winds. And it also keeps the rain out.
I took some old bed pillows that were scheduled to be trashed and sewed them together, then made a cover for it and this became a nice bed in there for my dogs.
To convince the dogs to go inside and check it out, I simply tempted them each with a rawhide bone and then tossed the bone inside. They went right in and retrieved their bones. Since then they have gone in it several times on their own to check it out.
Now if my pet sitter doesn't bring them in when it rains, I don't have to worry. Takes a huge weight off the shoulders of this over-protective doggy mama!
By Cricket
Comments
August 18, 2009
0

found this helpful
Top Comment
That's so cute and thoughtful for the dogs, but don't count on it in Florida rains. It would be blown away or flooded with the first good rain. However, I purchased a couple of nice igloo type dog houses at Walmart (I think they were approx.
$75 at the time). The are solid, have a floor and won't leak. They make a cozy place for the dogs. We put a heavy-duty flap on the opening to block the rain and to allow them to go in and out. However, since then we put doggy doors on the house so they can just go in and out of the house on their own. Good luck.
August 18, 2009
0

found this helpful
I'm so glad you love your dogs that much. If it were me and my "Pet sitter" left my dog in the rain, I'm afraid I'd make the "sitter" stay out in the rain and bring the dogs in. Don't mean to offend, but what kind of person would not get a dog out of inclement weather?
August 19, 2009
0

found this helpful
Thank you for taking care of your dogs. I see too many dogs left out in the weather. My neighbor uses the cover for the back of his pick-up.
When he's not using it it's in the yard where the dog is tied. If the rain starts, Isabelle can go inside and stay dry.
August 21, 2009
0

found this helpful
You're certainly not over-protective. If I had a pet sitter that did that, it would be the last time they would pet sit my dogs!
Read More Comments