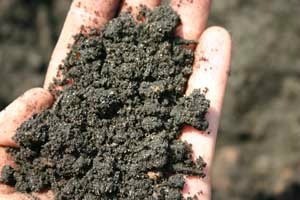 Question:
How does one make his own soil testing kit?
bbleackley from Saskatchewan
Answer
bbleackley,
You can make your own kit to test your soil's pH, but keep in mind that it will only give you a general indication of acidity or alkalinity. Most plants grow best in soil with a pH of 6.0 to 7.5. it won't be as accurate as getting your soil tested by a certified lab. To make your own pH testing kit, you'll need a couple of glass jars, some vinegar and some baking soda. Start by spooning several tablespoons of soil from your garden into a jar. Take two to three samples of dirt from the topsoil and two to three samples from 3-4 inches deep. Mix all of the dirt together. Now spoon two tablespoons of the mixed soil into each jar and mix in a little bit of water until the soil is just moistened.
In a separate container, mix a tablespoon of baking soda with two tablespoons of water. Pour this into one of the jars containing soil. If the soil starts to bubble or fizz, it may mean your soil is on the acidic side of the pH scale. If it doesn't fizz at all, you may have alkaline soil.
Now add a tablespoon of white vinegar into the second jar containing a mixture of your soil. This time if it fizzes, it may mean your soil is more on the alkaline side of the pH scale.
If your soil is acidic, you will want to increase soil pH. Lime is most commonly used. To lower the pH of alkaline soils, use compost and manure. Remember, changing your soil's pH takes time. The best time to perform a soil test and add amendments to your soil is in the fall.