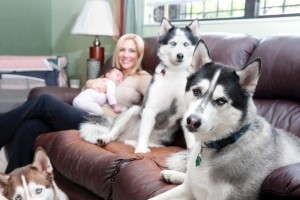 Especially when you have multiple dogs in the family, knowing the pack order is important. To your dogs, you are part of the pack. To have a happy home, you need to be at the TOP of the pack order.
Alpha Dogs
Alpha dogs are the boss dogs. You may have an alpha dog if she acts like this:
Your dog usually wins at tug-of-war with the other dogs.
Your dog hoards toys and treats.
Your dog wins staring contests with the other dogs.
Your dog pushes to be the first one out the door.
Your dog humps the other dogs, regardless of gender.
There is nothing wrong with showing a little preferential treatment to your alpha dog. You should put the alpha's bowl down first at dinner time, and greet her first when you wake up or get home from work. If you try to be fair and give more preference to the lower dogs in the pack, your alpha can get upset, to the point of aggression towards the other dogs to reclaim her place as leader.
Omega Dogs
Omega dogs are low dogs on the totem pole. Your omega dog may act like this:
Your dog goes belly up when she meets other dogs.
Your dog piddles when she meets other dogs or people.
Your dog gives up toys and treats to the other dogs.
Your dog gives up first at tug-of-war.
Your dog may not make eye contact, or will be the first to break a stare.
Your dog gives up sleeping spots to the other dogs.
Don't feel bad if you have an omega dog; they are perfectly happy in their place in the pack. In fact, they will feel less secure if you try to treat them like the alpha to even things out.
So what's a pack leader to do? Understanding and following the pack order will help keep your dogs coexisting harmoniously. However, keep in mind that you are the ruler over all. Letting your alpha dog boss you around means she won't obey you when you give commands.
One good way to help your dogs adjust to the pack order is to share the feeding duties between all the human members of the family. Your dogs will learn that each member of the family is a food provider, and should be respected for their high pack rank.
By Catherine Foreman
Comments

April 3, 2006
0

found this helpful
My male (neutered) and female (spayed) act as equals? No dominance at all.
Perhaps because they are rescued?
Thanks!
Jennifer

April 4, 2006
0

found this helpful
Mine both Yorkie(male) Jack Russell (her)
act the same alpha-ish...is this normal
we enjoy them.
By Lisa (Guest Post)
April 4, 2006
0

found this helpful
I really need some help with the Pack Order in my house. Everyone is miserable, people and dogs. Any advice would be greatly appreciated. My vet did not have any. The only two girl dogs I have, (both have been spayed), came from the same mother and father, different litters. I rescued them from across the street. Mother was English Bulldog and father was black lab mix. Both very sweet dogs.
After 4 years of getting along great, last month these two girls decided they hated each other and now can not be in the same location. After a $500.00 vet bill and surgery on one of them, I am exhausted. It is hard to continually keep these dogs apart. One of the dogs actually tried to take the other out of my arms.
How about muzzles for both? Would that work?
I actually gave one of them away and she almost grieved herself to death,( so did we). I had to go and get her. Please help. Thank you so much. Lisa

Ruth Kennedy
Bronze Feedback Medal for All Time! 174 Feedbacks
April 4, 2006
0

found this helpful
this makes me giggle cause all of you are talking about dogs....well, I have a female rat terrier Jackie and she's smaller than our male cat Fuzzy (fixed) and Jackie's constantly after the cat, nipping, chewing, humping whatever. We find it quite embarrassing since she likes to really act up with company sometimes humping the company's arm
Read More

Comments