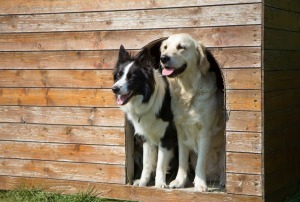 I have an older outdoor dog. We had another outdoor dog, much younger, that for some reason started attacking our older dog. We had to get rid of the younger one. Since then, for some reason, the older dog refuses to get inside a dog house.
There are 3 good dog houses she could use. In the winter, I put straw in them for extra warmth, etc. It breaks my heart to see her lying out in the rain, snow, sleet, whatever. Why is she doing this and how can I get her to go inside the dog house?
By sue
August 30, 2011
0

found this helpful
Best Answer
That's probably correct. Marking territory is one way a dog tells another dog, "you're not allowed here." Or, it's also possible the dog physically didn't allow her to go in them, and she still thinks it will come back to enforce that rule.
Either way, another "boss" can change the rule. A human can be that leader.
A dominate dog is naturally the boss of a more submissive dog. That's according to nature. When the dominate dog grew up, it became the leader of your other dog. Again, this is natural. Then for some reason, it decided to claim all the doghouses and that your dog would sleep on the ground instead, even if another doghouse was unoccupied.
That seems stupid to humans, but it is in accordance with dog territory rules. The dog also has the right, as leader, to punish dogs who disobey the leader. This is in accordance with pack rules. Dogs consider all this normal. Of course that doesn't mean they like to be punished, and you can't really have dogs that are fighting all the time. Eventually, the older dog would have submitted to the other's leadership, but might have gotten pretty torn up in the process, and that's obviously not good.
Your dog still won't disobey the leader for fear of punishment. That's natural. But if a new leader (say a human one) were to come in and change the rule, then that would be okay. This is why the human involved must be seen as a leader to the dog.
If you bring another dog home, try to make sure the submissiveness level is generally about the same as the dog you have, and you'll have much more peace.
August 31, 2011
0

found this helpful
Best Answer
Consider this: take a bag of white lime (not garden lime) bought at feed and supply stores. Put the lime around the houses and in dog yard to eliminate the scent of the other dog. Bleach and clean out and outside of dog houses too.
There is one other reason I know for sure a dog won't go into a dog house over. You have a small dog house for a large dog. Build the dog house like a play house and put a couple of windows or a protected side and an open side and your dog will get in out of the rain and weather.
My neighbor had a Brittany Spaniel and she wouldn't get in out of the rain for 3 years ...dug a hole in the yard and got sick every winter. She gave me the dog 4 years ago and we have a huge dog house like I described within her run and she immediately went in without any problem. We still have her and she likes her house too. please note here her door is closed because I just bathed and clipped her and it has been too hot for her outside.
Note: that this is nothing fancy just 4 posts on top of ground with wire around 2/3 of it and the rest is closed in. In winter I take cardboard and plastic and put hay inside and she goes in and out as she pleases.