August 30, 2011
0

found this helpful
Best Answer
That's probably correct. Marking territory is one way a dog tells another dog, "you're not allowed here." Or, it's also possible the dog physically didn't allow her to go in them, and she still thinks it will come back to enforce that rule.
Either way, another "boss" can change the rule. A human can be that leader.
A dominate dog is naturally the boss of a more submissive dog. That's according to nature. When the dominate dog grew up, it became the leader of your other dog. Again, this is natural. Then for some reason, it decided to claim all the doghouses and that your dog would sleep on the ground instead, even if another doghouse was unoccupied.
That seems stupid to humans, but it is in accordance with dog territory rules. The dog also has the right, as leader, to punish dogs who disobey the leader. This is in accordance with pack rules. Dogs consider all this normal. Of course that doesn't mean they like to be punished, and you can't really have dogs that are fighting all the time. Eventually, the older dog would have submitted to the other's leadership, but might have gotten pretty torn up in the process, and that's obviously not good.
Your dog still won't disobey the leader for fear of punishment. That's natural. But if a new leader (say a human one) were to come in and change the rule, then that would be okay. This is why the human involved must be seen as a leader to the dog.
If you bring another dog home, try to make sure the submissiveness level is generally about the same as the dog you have, and you'll have much more peace.
August 31, 2011
0

found this helpful
Best Answer
Consider this: take a bag of white lime (not garden lime) bought at feed and supply stores. Put the lime around the houses and in dog yard to eliminate the scent of the other dog. Bleach and clean out and outside of dog houses too.
There is one other reason I know for sure a dog won't go into a dog house over. You have a small dog house for a large dog. Build the dog house like a play house and put a couple of windows or a protected side and an open side and your dog will get in out of the rain and weather.
My neighbor had a Brittany Spaniel and she wouldn't get in out of the rain for 3 years ...dug a hole in the yard and got sick every winter. She gave me the dog 4 years ago and we have a huge dog house like I described within her run and she immediately went in without any problem. We still have her and she likes her house too. please note here her door is closed because I just bathed and clipped her and it has been too hot for her outside.
Note: that this is nothing fancy just 4 posts on top of ground with wire around 2/3 of it and the rest is closed in. In winter I take cardboard and plastic and put hay inside and she goes in and out as she pleases.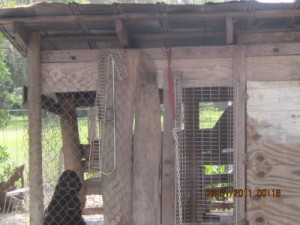 August 30, 2011
0

found this helpful
This is a dominance issue. The younger dog told your older dog "All the doghouses belong to me." As far as your dog is concerned, those orders still stand.
Who, according to your dog, is the boss in your house? Think carefully. Whoever the dog sees as the boss (strongest) can fix this problem. If you're not sure who the boss is, try to think who the dog actually obeys the most.
This person (say it's you) starts with a crate inside the house. Practice putting the dog in it. Reward the dog with treats for going in and lying down. After several days' practice, put the crate outside and treat and praise the dog for going in.
After a few days of that, put the crate right next to a doghouse and practice going in and out of both. Then practice with lying down in both. When your dog can nap in the doghouse, remove the crate.
August 30, 2011
0

found this helpful
The previous dog could of marked his territory in or around those houses. Your dog is probably just really afraid that he will get bullied again if he associates with dog houses again.
August 31, 2011
0

found this helpful
Is there a reason she cannot come in and be a house dog. Older dogs, especially, need warmth and dry for their poor old bones.
I don't understand why she must be outside. Please let us know.
August 31, 2011
0

found this helpful
Your dog sounds like she has anxiety issues. She thinks she is going to be attacked whenever she can't see all around herself, such as in an enclosed dog house. Set her up a shelter with no sides so she has a clear view all around herself and she will probably use that. This worked for me, when I had this issue. I took the sides, front, and back boards off a large dog house, leaving just the roof, posts, and the three top boards near the roof (sort of like a sun/shade shelter). Worked great.
August 31, 2011
0

found this helpful
Or just take her inside!
August 31, 2011
0

found this helpful
I do not understand people who have dogs that are "outside dogs". I agree with the previous poster who said this dog belongs inside the house. The rest of you, I don't know why you have dogs.
They are pack animals, domesticated and bred to live with their pack, people. Not out in the back yard in lime or gravel or drafty damp cold dog houses. What is wrong with you people, why do you have dogs. I just don't get it.
May 21, 2017
0

found this helpful
Because dogs aren't smart enough to not step in poop then come in your house while you have a baby crawling around on the floor is a great place to start. Another is if they weren't taken in to be outside dogs they would be put down is another. Get off your high horse as long as they are well taken care of and get attention they can be perfectly happy outside. (not just tied to one spot and left btw which is not ok)
September 1, 2011
0

found this helpful
First of all, for all who are angry because I don't let her in the house; it's not a matter of letting her in. She doesn't want to come in! I've tried to get her inside many times and the one time she did come in she stood by the back door and whined until I let her back out and she hasn't come in since.
I have 6 other dogs that are all inside dogs. This is for some reason her choice, not mine. So don't be so quick to judge when you don't know the circumstances.
Thanks to others who were able to give good advice!
September 1, 2011
0

found this helpful
Farstar & Marfette, I know this is hard to believe but there are dogs who prefer to be outside and are happier and healthier living outside. There are also cats who prefer to be outside. We have a cat door in the kitchen and our cats can come and go as they please. Two of them never come in. Should I turn them over to the SPCA because they won't come in the house?
You two should stop judging people when you don't know all the circumstances.
September 2, 2011
0

found this helpful
HesterRegan, in case you missed my remarks to some others. No,there's no reason why she can't come in and be a house dog except that she refuses to come into the house! I have several other dogs that are indoor dogs. These dogs spend time in the yard with her and they all get along,etc. but she has never wanted to come in from the time we got her as a young dog. So it's not that I won't allow her in, as others assumed, it's that she just plain doesn't want to come in.
December 18, 2016
0

found this helpful
Some folks just don't want an animal shedding fur and dead skin all over their home. I love all animals , dogs mostly but I refuse to allow one to contaminate my home. Animals belong outside in nature. A large back yard where they can roam freely = a happy dog. A lot of you love dogs more than human beings due to race or religion. Sad, very sad!
December 30, 2012
0

found this helpful
The kindest gift you can give this beautiful girl is place her in a home where she is the only dog.