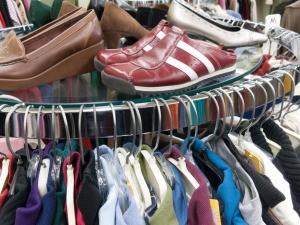 I love thrift stores. My mom took my 5 sisters and me to the same store every time we went to the beach. That store is still there and I still shop there. Almost any thrift store has something I need. But they're not equal.
Years ago, when shows about thrift shopping became popular, things began to change. Prices went up because they started doing more research on their donated items, so they made more because you paid more. All fair of course. The key is that nobody knows everything about everything.
So each store has things that are ridiculously high and ridiculously low. Your job is to notice how the pricing is done. Some stores do their own pricing and some have things priced at a central location and a truck brings the merchandise.
If the pricing is done in house, you'll soon get a feel for who is doing the numbers on a given day. There are usually several people in various departments doing prices. Make friends with these people! Not for a break in the price but because they might tell you about something you've been looking for. I've missed treasure by minutes because I was wandering about.
Many stores have a discount color each week and others have pop up sales which are an added bonus. The best day of the week to shop is usually Friday.
I hope these tips are helpful. Enjoy the hunt!